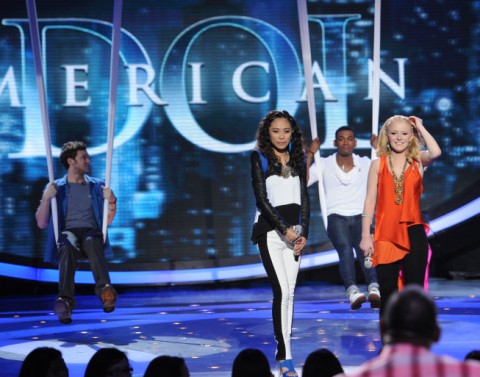 The American Idol 2012 Top 4 took to the stage tonight to sing songs from California artists and songs they wish they had written. The California songs ended up being duds compared to the songs the Idols wish they had written.
As always, I'll review each performance and assign the letter grade I think each deserved.
Round One
Phillip Phillips, "Have You Ever Seen The Rain." No guitar for this one, so Phillip was out of his comfort zone right away. But it was better than he's been the past couple weeks. Phillip is apparently never going to do something Earth-shattering, but consistency is important, too. A-
Hollie Cavanagh, "Faithfully." I thought someone should sing Journey this week, but I didn't exactly expect it to be her. I think that was a smart move for her to pick a popular song by a popular band, but I'm not sure it was enough to do what she needed this week. I mean I liked it. I thought it was nicely done and entertaining. But there wasn't enough to grab a new vote, I don't think. At least Randy got his chance to name drop his time with Journey. A-
Joshua Ledet, "You Raise Me Up." Ugh. This song, really? I guess I'm watching too many singing competition shows because hearing this song again makes me want to assign the grade F. But I'll pretend like this is the first time I'm hearing it. He did a great job and actually held back a little, which is when I like Joshua the best. It was also more emotional than some of his other performances so that was good as well. A
Jessica Sanchez, "Steal Away." Not so sure her picking such an old song is going to do her any favors. She probably should've done a younger song or at least a more familiar older song. The vocal was good but she's back to that disconnected stage presence a lot of us had such an issue with earlier in the season. Not sure what it is, but she just seems to be singing only for herself and not for others. Still a solid performance. A-
Phillip and Joshua Duet, "This Love." That was surprisingly good. For both of them. Who knew.
Hollie and Jessica Duet, "Eternal Flame." The swings were a little too precious. And the vocals were just ok. The guys definitely win the duet round.
Round Two 
Phillip Phillips, "Volcano." This was very Dave Matthews, which I try to avoid saying, but this week I had to say it. It was definitely a song he believed. It was very intimate and emotional for Phillip. It was a good performance. I imagine that is indeed the kind of song he'd record on his own. Good choice. A+
Hollie Cavanagh, "I Can't Make You Love Me." This is one of the most emotional songs ever written and it's a song you have to believe in order to pull it off and I didn't get that from Hollie. It was a fantastic vocal, but she couldn't relate to the message of the song, so it didn't work. Maybe she should have sung it to America since she's been so close to going home so many times. B+
Joshua Ledet, "It's a Man's World." Another song I'm sick of hearing on singing competition shows. Ugh. But again, it was a solid performance. Of course it dipped into screechy territory, which I never love, but what do I know. Joshua had a great night tonight and that's going to be good news for him tomorrow night. A+
Jessica Sanchez, "And I Am Telling You." This is a HUGE song and I kind of couldn't believe she was doing it. Let's see if I can finally get what everyone else (but me it seems) has been getting all season. OK, the vocal was AMAZING. Definitely amazing. But there's still something missing! I wish I could explain it. After thought: Her styling was terrible. A+
And now on to the predictions.
It's just too hard this season to say who is going to be totally safe and totally not safe, so I'm going to say what I think kind of might, possibly happen.
Most Likely Safe: Phillip Phillips and Joshua Ledet
Possibly The Bottom Two: Hollie Cavanagh and Jessica Sanchez
Possibly Going Home: Hollie Cavanagh.
My thinking: Phillip is probably the person this season who will never land in the bottom. It happens almost every season (Scotty, Lee, Adam, David). And those people almost always win (minus the Adam/Kris season), so I think saying Phillip is safe is a safe bet. Joshua has that rare things where America is actually voting for him because he can sing. That should keep him safe this week. And I think Jessica's luck has finally began running out, so that puts her in the bottom with Hollie, who is surely going to go home. Right? Ack! Who knows this season! Anything can happen.
What did you think of the performances? Who's going home?