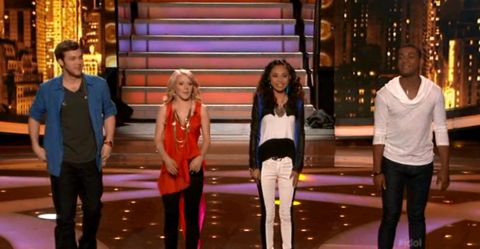 American Idol 2012 seems to be settling in to a ratings pattern as we approach the big season finale on May 23rd. As we saw last week, the Wednesday night Top 4 performance show dropped in viewership while the American Idol results show picked up a bigger audience.
Wednesday's live performance show has steadily been losing roughly 200,000 viewers a week for the past month which settles it in at 16.4 million this week. Sure, there's nothing shabby about over sixteen million people tuning in to check out your show (and, more importantly for FOX, your ads), but the steady decline isn't a good thing especially when the performances are, in theory, supposed to be getting better and better. Again I'll say I think they should narrow these performance shows down to an hour, but that's not going to happen this season.
Thursday's results show are the good side of the ratings news for American Idol 2012. After climbing more than half a million new viewers last week Idol saw a smaller boost this time around with 15.6 million viewers tuning in to watch Hollie Cavanagh's elimination.
There are only four more episodes in American Idol Season 11, so be sure to get your fill before it's gone again.
Source: TV By The Numbers