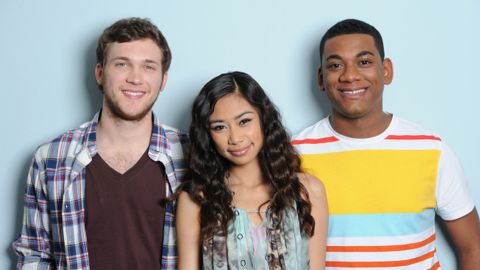 The American Idol 2012 Top 3 will sing songs picked by the judges, Jimmy Iovine and one song of their own choosing. So there's no theme for us to analyze and make song suggestions, so just for the fun of it, I'll pick a couple songs that I would like to hear the Top 3 sing.
I, of course, don't expect these to be any of the actual choices. They're just songs I'd like to hear them sing.
Phillip Phillips: 1. We Are Young by Fun. I think it's important for Phillip to do a song that is current. I think this song with a Phillip spin on it could be pretty amazing.
2. Imagine by John Lennon. Phillip could really have a moment with this. Just him and his guitar. He does well with gentle songs with big meaning. And this song fits that perfectly.
Joshua Ledet: 1. Listen by Beyonce. I was thinking of this song for Jessica, but I thought she'd probably get too much criticism for doing another Beyonce song. So I thought, why not Joshua? This is a very powerful song and he could turn it into something even bigger.
2. Stand By Me by Ben E. King. I think Joshua does a great job channeling the early rock n roll sound, so this song would be perfect. It's a well-known and timeless song, so it could fit right into the show.
Jessica Sanchez: 1. Love You Like A Love Song by Selena Gomez. I think Jessica needs to do something really young this week or she could find herself leaving the final two spots to the two guys. I think this is kind of a weak song so she'd have to turn it up in the arrangement, but it's young enough to work.
2. Midnight Train To Georgia by Gladys Knight and The Pips. I've basically just wanted someone to sing this all season. I don't know why. I think Jessica could make it work. It might be a little old for her, but it's really hard to figure out what she should be singing because her song choices have kind of been all over the place all season.