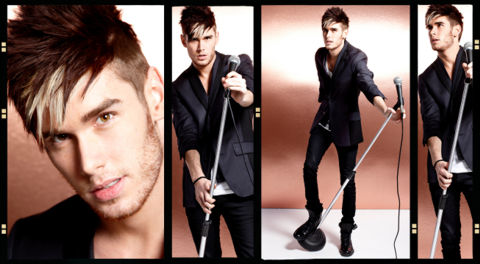 Even thought the American Idol 2012 Top 9 theme is a broad one, there are still some things I'd like to see from the contestants.
This week, the theme is songs from the singers' idols, so picking what songs I'd like to hear them sing is nearly impossible. Of course we did get some hints from American Idol Executive Producer Nigel Lythgoe as to what some of the idols will be, so we can take a look at that as well.
Colton Dixon. Colton will likely take on Lifehouse or Daughtry based on what Nigel said. There's not much Colton can't do at this point. He's definitely in the right zone.
Skylar Laine. I was going to suggest Skylar do a very well-known song before she slips into the bottom, but according to Nigel, someone is doing Miranda Lambert and it's probably Skylar. So that means she's not going to do a really well-known song. Miranda isn't one of those artists that crosses over at all. Skylar needs to consider some classic country like Patsy Cline.
Hollie Cavanagh. It's anybody's guess who Hollie's Idol will be, but I'd love to see her lighten up a bit. Come off a little younger for a week with her song choice. I'm not talking something awful like Miley Cyrus or anything, just a more youthful sound.
Jessica Sanchez. There's little Jessica can do wrong at this point. I don't really see her falling into Pia Toscano syndrome or anything, so I'd stick to ballads for a bit longer if I were here.
Phillip Phillips. This guy can do no wrong. Everyone thinks he's going to be doing Led Zeppelin, but I think that might be Elise's Idol. We'll see. Phillip just needs to keep on doing what he's doing.
Elise Testone. I don't think Led Zeppelin is a good idea for her, but I'm getting the feeling it's her. I don't know why. I just am. I think she needs to bring it hard every week or she could fall back into the bottom.
Heejun Han. Heejun should really take everyone's advice and play it straight for a week. It could actually help save him from going home next. He might be the Vote for The Worst pick, but that's not why he stuck around last week. It's because America is still charmed. But they won't be much longer. They're going to want to hear him sing and not joke.
Joshua Ledet. Joshua should mix things up a bit. If ANY of the contestants are coming off as a one-trick pony it's him. He doesn't have to take us to church every week. He might want to reach out to a broader audience.
Deandre Brackensick. Oh, he's still here. I seriously kept counting how many people I had written about and couldn't figure out who the ninth person was. I had to look at a photo just to remember this guy.  That being said, I have nothing really to say. He's pretty much destined for the bottom 3 this week regardless. He and Heejun have to shake things up if they even want to try to not go home.
What would you like to see the American Idol Top 9 do this week?