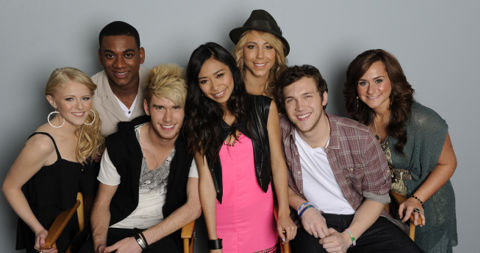 After two weeks we're finally ready for another American Idol 2012 elimination so let's see who you're voting to keep. There's no "Save" in play this week and someone must go home. Will it be your favorite American Idol Hopeful?
So far the votes in our poll have their typical leader, Jessica Sanchez, but just like I pointed out last week our poll is open to a wider range than the official voting. Might as well just toss out Jessica's 40+% of the vote as it's proven to be inflated and unreliable and put her in the "safe" category. After last week's scare there isn't a chance that her fans will let it happen again.
Joining Jessica in our poll's Top 3 bracket we've got Phillip Phillips with 14% and Hollie Cavanagh with 10%. Last week I expected Phillip to end up in the Bottom 3 based on his positioning in out American Idol Net poll, but that didn't happen. With even higher numbers in our poll this time around I'd wager he'll once again be safe. Hollie's strong numbers are a little more surprising, but if they translate over to real votes then she should be just fine.
That brings us to the danger zone in our poll. We've got Skylar Laine and Joshua Ledet at 9% each, Colton Dixon at 5%, and Elise Testone at 4%. Will Joshua really be making back to back appearances in this week's American Idol Bottom 3? I think it's entirely possible considering Elise proved last week that even the pimp-spot can't save these finalists. Then there's Skylar who has slipped in to the Bottom 3 only once this season and may be a sign of building voter strength.
The bottom two singers in this week's poll, Colton and Elise, are somewhat surprising. Colton was safe last week while Elise fell to the official Bottom 3. If accurate then it'd be Colton's first visit to the stools but the third straight for Elise. With that trend in mind I'm expecting tonight's elimination to belong to Elise. Despite earning mostly positive reviews from the judges over the past few weeks she's had trouble garnering that same level of support from voters. I think her luck has finally run out on American Idol 2012.
What do you think will happen? Tune in later for the Idol results and we'll keep you updated with live news throughout the show.