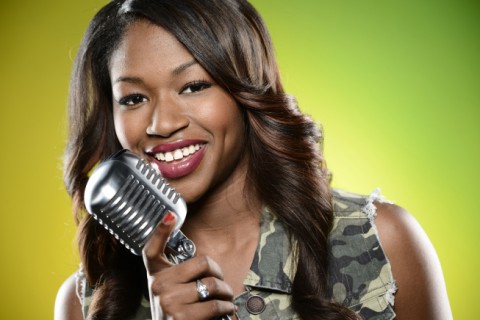 American Idol 2013 producer's and judges' plan to push Amber Holcomb to the top of the Season 12 heap fell through Thursday night when the 21-year-old 18-year-old from Houston, Texas, was sent home, just missing a spot in the Top 3.
Amber was definitely the underdog the entire season as far as votes go. She even escaped the bottom three two or three times. So she had some pretty strong performances to help keep her in the game head of six others. Let's take a look back at some of her best moments.
Amber Holcomb Performs 'My Funny Valentine' during the Sudden Death Round
Amber's first time performing "My Funny Valentine" really put her on the map this season. The judges and fans loved it. She tried it again this week, but it didn't have the same impact, clearly, as she was sent home this time around.
Amber Holcomb sings "I Believe In You And Me" during semi-finals
It wasn't my favorite performance of Amber's (that's still to come) but it was one of her more popular moments on American Idol 2013.
Amber Holcomb performs "The Power of Love" during Top 4 Week
My favorite Amber performance was last week when she took on Celine Dion's "The Power of Love." I kept thinking Amber should sing Celine since she's a fan and when she did you could tell it was song she loves and is connected to.
What were your favorite Amber Holcomb's performances?