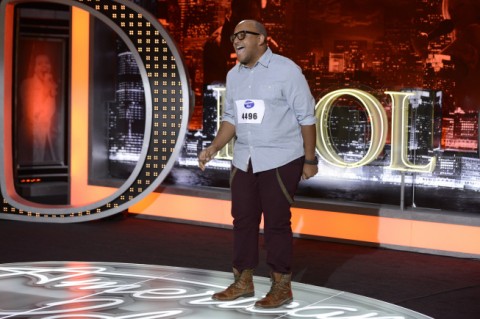 The American Idol 2013 road to the live shows continues tonight as the judges make a stop in San Antonio, Texas, and Long Beach, California.
As always, I'll pull out the standout contestants — both good and bad — and we're again doing this live! So live comment along with us! Please let us know who you're loving and who you're hating!
The Standouts
Vincent Powell.  Vincent returns to Idol and his version of "Rock Me Baby" started off  smooth and soulful and then he kicked it into high gear with some passion and ended up with a pretty flawless audition. Great job. The judges agree. He's off to Hollywood once again.
Derek and David Bacerott. Oh boy. Duo auditions are almost never a good thing. This time was no exception. I'm not even sure what the song was they were singing because the audition was that horrendous. But they let them on the show so they could give the judges some lip.
Savananah Votion. Young mother Savannah is finally taking a pause to pursue her dream. And her version of "At Last" was surprisingly good. I think she could have rethought that outfit because my very first impression wasn't a good one. But thankfully it's all about the voice. And she scored big there. The judges agree. She's off to Hollywood.
Cristabel Clack. A worship leader from San Antonio is stepping into her first American Idol audition and at 29, it's also her last shot. Her version of Alicia Keys' "If I Ain't Got You" was better than most I've heard when it comes to that song. She's got a sweet rasp to herself and it all just seemed really natural for her. The judges give her four easy yeses.
Ann DiFani. She was nominated by her husband to audition for Idol, so she gets her shot. She goes with Faith Hill's "Stronger"  for her audition song. She wasn't the best audition ever, but she's got a sweet sound but I'm not sure if it wasn't her idea she'd really work out. I think the judges were fishing at that idea as well. She's off to Hollywood.
Victoria Acosta. Well I didn't think her version of "Big Girls Don't Cry" was good. At all. I think that's a bad song to audition with, so maybe she's better than that. The judges seemed to have to same reaction as me so they asked her to sing something more in her wheelhouse. And that was SO much better. That second song got her through to Hollywood.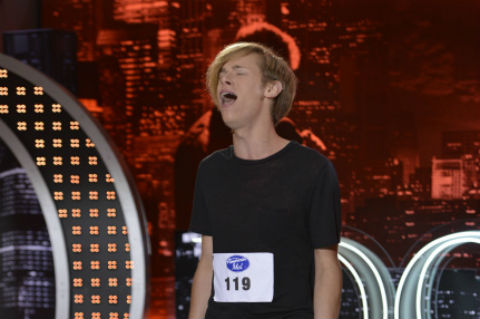 Papa Peachez. What a character this guy is. He auditioned with an original song. Or at least I think it was a song. It was just a bunch of random lyrics. He's actually not a completely horrible singer. With some work (or maybe just by taking it seriously) he could be a pretty OK singer. Nicki Minaj and Mariah Carey was on board to send him through but the others weren't. Randy was the tie-breaker (again with some rules we've never been filled in for) and Randy decides to change his vote. Peachez is through! Haha. I kind of can't wait to see him in Hollywood!
Sanni M'Mairura. This kid might not be the best singer not the planet, but he's got an energy and a presence that is outstanding. His version of "Who's Loving You" wasn't technically perfect, but the audition was very entertaining. The judges dug him, so he's off to Hollywood.
Adam Sanders. His version of Etta James' "Id Rather Go Blind" was way better than I thought it was be. He was filled with soul. At one point it got a little screechy, but he has a great voice. The judges loved him and he's going to Hollywood.
Shubha Vedula. I was not expecting that voice to come out of her. She's got a big voice and she's got great control of it. It was a great audition to kick of the Long Beach auditions. And she only had to impress Keith Urban and Randy Jackson, so she got an easy golden ticket.
Matt Farmer. Matt had a backstory but I tone those out. I could't, however, tone out his audition because he's got a big voice and a nice tone. He got three yeses (Mariah decided to show up) and is off to Hollywood.
Stephanie Sanson. This person is crazy. I'm not even going to waste any more words on this.
Micah Johnson. After a huge medical flub, he's left with a speech impediment, but that doesn't stop his ability to sing. Like at all. I was surprised you couldn't pick up on his speech issue at all. It was a pretty solid audition and he's through to Hollywood.
Rachel Hale.  Country girl Rachel took the audition stage by storm with her version of "People Get Ready." Her audition was effortless and her personality was as big as her voice. The judges liked her and they put her through.
Briana Oakley. One of the youngest contestants of the night, Briana's voice was anything but young. Her version of "Up To The Mountain" was one of the best of the night. The judges thought so too. She's off to Hollywood.
Matheus Fernandes. This guy has a nice story. It's one of those it is what is stories that I'm ok with. The guy is short and he's struggled because of it and he shouldn't have. So I was happy when this little guy busted out a big, passionate voice. He's heading to Hollywood.
What did you think of the auditions? Who were your favorites of the night?