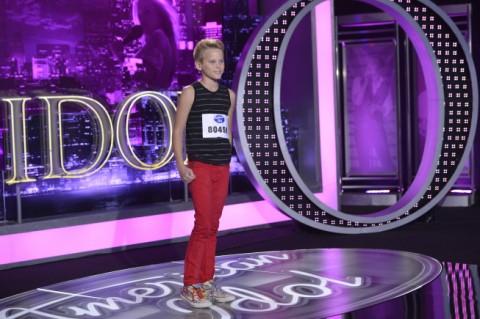 The American Idol 2013 road to Hollywood continues to a close tonight as the judges make  their final stop in Oklahoma. That means next week is Hollywood Week!
But before we jump ahead we've got some unfinished audition business to take care of.
As always, I'll pull out some standout contestants — both good and bad — and we're again doing this live! So live comment along with us! Please let us know who you're loving and who you're hating!
The Oklahoma City Audition Standouts 
Karl Skinner. Well, so much for getting off to a good start. Our first auditioner of the night is a joke audition. Or wait. Maybe it's not a joke. Why is this season so confusing when it comes to this? OK, I think he's serious. He's legit. And I think he's actually a good musician. And the judges bought it as well. He's off to Hollywood.
Watch Karl Skinner's audition performance of "I Feel Good."
Nate Tao. I didn't love Nate at first, but as the audition went on, it got better. His version of "For Once in My Life" wasn't perfect, but there's something about him that people would easily connect to. And the judges agree. He's got his golden ticket and is heading to Hollywood week.
Watch Nate Tao's audition performance of "For Once In My Life."
Halie Hilburn. I think she's a better ventriloquist than a singer. Actually, she's not a bad singer, but I don't really see her as the next American Idol. But she's definitely talented and I'm sure after her appearance on Idol, the ventriloquist community will embrace her. And like every other audition this season, she does another song and it's way better this time. This clearly has to be happening only because I'm recapping this live. It makes it look like I keep contradicting myself.
Watch Halie and Oscar's duet audition performance.
Zoanette Johnson. This might just be my favorite audition of ALL time. Her version of "Star-Spangled Banner" might not have been good, but she's hilarious. I want to watch this audition on a permanent loop. Actually, you can tell she can sing. So I'm glad the judges gave her a golden ticket  because I either want to hear more of this insanity or I want to hear her sing legitimately.
Watch Zoanette Johnson's performance of "Star-Spangled Banner."
Kayden Stephensen (photo above). What a sweet little guy. The judges fell in love with him and his easily off to Hollywood.
44 total golden tickets were handed out in Oklahoma City. Who were your favorite auditions? I think mine was Steven Tyler's cameo at the very end.