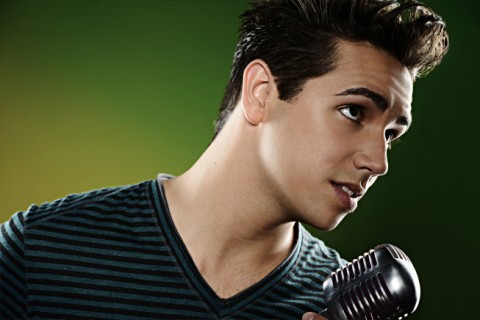 Lazaro Arbos had a long and solid run on American Idol 2013. Some might even say he outstayed his welcome. But that's all over now as we said goodbye to him tonight.
Fans have been split on the sweet 21-year-old from Florida for the past several weeks because while he was an early favorite, his performances have been lackluster and best. And the judges have ridden him hard for weeks. But his fans kept him going, but even they ran out of votes this week because the girls are just too good this season.
Regardless of what you think about Lazaro, he did have his moments and we're going to give him a nod by looking back at those now.
Lazaro Arbos' Best Moments on American Idol 2013
Bridge Over Troubled Water, First Audition. When we first met Lazaro, we got a remarkable story about a guy who can barely speak without stammering, but sings crystal clear. His touching story and courage pulled a lot of us in. That coupled with his first audition, had me sold. I loved his story and his version of Bridge Over Troubled Water.
Angles, Hollywood Week. Lazaro continued to shine during Hollywood Week with his version of Robbie Williams' Angels. He of course broke out the song again last night, but it didn't have the same impact that it did during Hollywood Week. Clearly.
Tonight I Want To Cry, Sudden Death Round. Lazaro bravely took on the Keith Urban song Tonight I Want To Cry and it helped land him into the American Idol 2013 Top 10. It's probably his best performance from the season, but it was all sort of downhill from there.