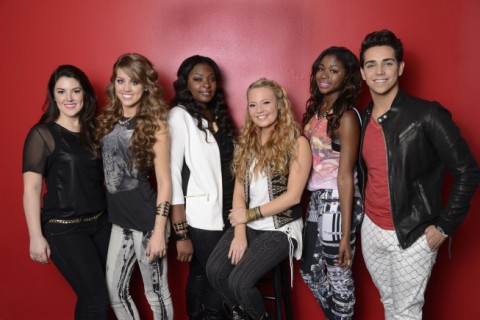 Tonight the American Idol results will reveal which finalist received the fewest votes for the Season 12 Top 6 and will fight for another chance with the Judges' Save. If that doesn't work, and if it's the last guy I don't think it will, then we'll find out who was kicked off American Idol tonight.
Readers have predicted it will be Lazaro Arbos coming in last place, but he's surprised us before, hasn't he?
Be sure to stick around for our live blog American Idol recap of tonight's show plus performances by Scotty McCreery and Kelly Clarkson!
Part of tonight's show we get to see the Idol Hopefuls playing soccer in their Ford Fiestas that we saw earlier in our exclusive Q&A interviews. It looks like a lot of fun but kind of a dangerous example to set!
Ryan starts to form three groups on the stage. Angie goes to the far side, Lazaro to the middle, and Kree to the near side.
Before we go any further with the results we are treated to a great performance by Scotty McCreery of his new single "See You Tonight."
Ryan now has Janelle join Angie, Candice with Kree, and Amber with Lazaro. Each represent a division of the results. I'd guess Lazaro and Amber are the bottom two, Candice and Kree are top two, and Angie and Janelle are the middle two. What do you think?
American Idol 2013 Top 6 – Bottom 2:
American Idol 2013 Top 6 – Top 2:
After 34 million votes, America decide Lazaro Arbos deserves to go. He'll perform once more, but I think we know how the judges will respond with their Save. The AT&T live hashtag voting shows 60% of voters want Lazaro to be saved. Seriously??
Who Got Voted Off American Idol Tonight – Results:
And we have an all-girls Top 5 for Season 12. Wow. Is that a first? Nigel must be peeing his pants right now with glee.
What do you think of tonight's results? Did America get it right?