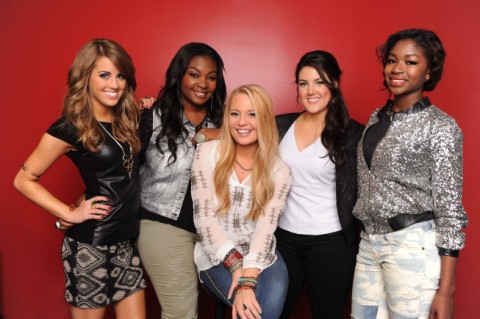 For the first time since I started doing this post each week, a new person moves into the top spot of who I think has what it takes to win American Idol 2013.
For the past five weeks, it's been all Angie Miller, all the time. And I've been watching as Kree Harrison crept up on her and she finally past her up this week. Of course my decision is mostly based on what happened on Thursday night's Idol. We said goodbye to Lazaro, but we also learned that Kree and Candice Glover were the Top 2. So things have changed just a bit.
The Top 5 Assessment
1. Kree Harrison. As I said above, I've had Angie in the top spot for weeks. But after Kree's growing popularity and her passing up Angie this week in votes, I think it's time to move her up. American Idol fans love the country singers and so do Idol producers. Could Kree be their next top-seller/award winner like Kelly and Carrie? Maybe. Final Placement Prediction: Winner of American Idol 2013
2. Angie Miller. Even though Candice also passed up Angie this week, I think Candice was just coming off two really AMAZING performances. I think Angie's fan base is stronger and will probably keep her closer than Candice to the top of the pack. Final Placement Prediction: Runner-up/2nd Place
3. Candice Glover. Regardless of the order, these three girls WILL BE your top 3. And right now, I'm pretty confident it will play out in this order. Of course anything can happen. And if I'm being completely honest, I think Candice should win. And if she keeps up the kind of performances she had this week, she could do it. Final Placement Prediction: 3rd Place
4. Janelle Arthur. I think Amber and Janelle are easily the next two to go. But in what order is anyone's guess. I think the judges over-hyping Amber has backfired and will get her sent home before Janelle. Final Placement Prediction: 4th Place
5. Amber Holcomb. After being in the bottom this week, Amber will likely go next. I think the judges will use the save on her, because next week is their last chance to do so. They'll like the drama and it will keep Amber around for another week. Then she and Janelle will probably go home in a double elimination. Final Placement Prediction: 5th Place
How do you think the American Idol 2013 Top 5 will play out?