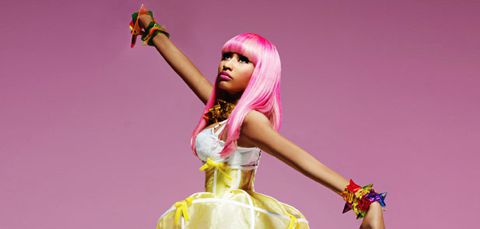 Nicki Minaj is your new American Idol 2013 judge, says Access Hollywood, who quotes US Weekly, who quotes an unnamed source. Of course that source is a friend of their best friend's ex-boyfriend who knows a guy.
Despite no official confirmation from "Idol" or FOX, one source said the outlandish "Super Bass" singer is "100% confirmed" while another told the mag Nicki is "definitely doing it."

In addition, a source who spoke on condition of anonymity told the Associated Press that a deal between Nicki and "Idol" was in the works.
Nicki would be the second new judge for American Idol season 12 after it was confirmed earlier that Mariah Carey had signed on. Steven Tyler and Jennifer Lopez both gave up their seats after just two years with the show. No word yet on whether or not Randy Jackson would be returning for his twelfth straight season with FOX's singing show.
We'll wait for an official word from FOX, but in the meantime you could be looking at your newest judge for American Idol 2013. What do you think of the news?