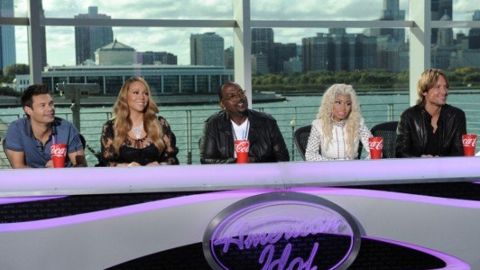 This is the final week of the Las Vegas rounds' "Sudden Death" for the American Idol 2013 contestants. The remaining ten girls and ten guys who did not perform last week will face off for the final five seats for each group to join the previously selected five girls and five guys. It'll be another brutal round of cuts and here's who you can expect to see each night.
Like we saw last week, the girls will go on Wednesday night for a two-hour episode with the boys following on Thursday with another two-hour show. Each performer will have the same "one song, one chance" to impress the judges and make the cut. At the end of each night the judges will make on the spot cuts. That means that by the end of the week we'll have the American Idol Top 20 live show performers.
In case you can't remember all the names, here's who you can expect on this week's broadcasts. We've also got a photo gallery for the season's Top 40 semifinalists that's worth checking out. Here's the schedule for who sings each night.
American Idol 2013 – Wednesday's Girls (February 27th):
Cristabel Clack
Jett Hermano
Juliana Chahayed
American Idol 2013 – Thursday's Boys (February 28th):
Which American Idol 2013 singers are you most anxious to see perform this week? Any early predictions on who will most likely make it through?