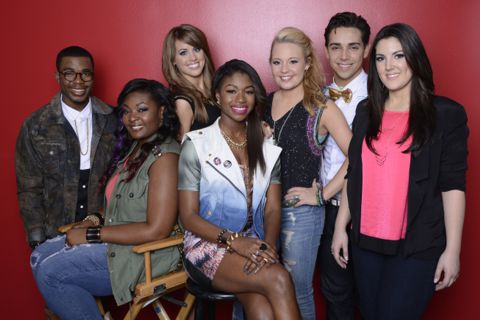 The remaining seven finalists on American Idol 2013 return this week for another round of performances competing for audience's votes as the Hopefuls move one step closer to May's season finale.
According to the latest American Idol schedule we can expect all the finalists to perform together on Wednesday, April 3, 2013. The singers will take on Rock 'n Roll songs with no chance of safety by hiding in a ballad. Those have been banned this week!
Then on Thursday, April 4th, the lights will be dimmed and Ryan Seacrest will reveal the latest American Idol results when the lowest vote earner will be required to sing for his life (it could be a "her life" moment, but come on). The judges will then convene and decide whether or not to use their Save on that Hopeful. If that Hopeful is either Burnell or Lazaro then we can forget about that happening.
Along with the results on Thursday there will be guest performances by Carrie Underwood and Casey James. Underwood will be performing "See You Again" while James is singing his single "The Good Life."
Of the remaining Top 7 finalists, which are you hoping to see survive this week and which do you think will be making his or her final visit to the 2013 Idol stage?