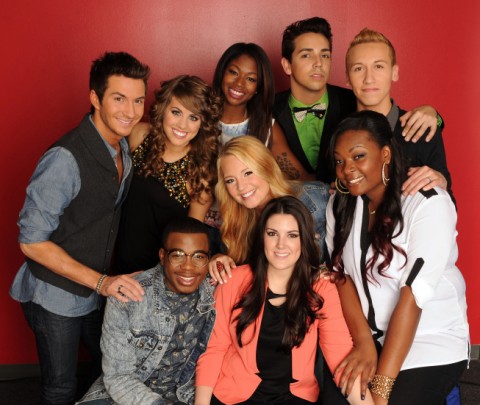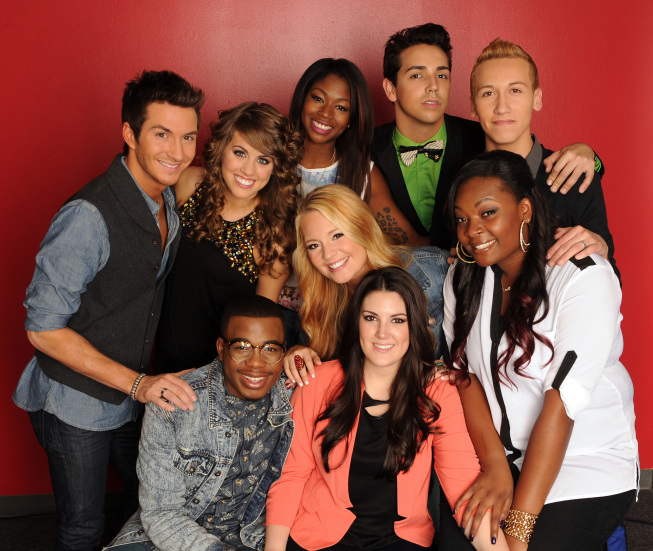 Even though the absolute best performance might happen tonight, it's time to announce our Top 10 performances from American Idol 2013.  We're doing it now because after tonight we'll all only be focused on one thing: the next American Idol. And plus it makes sense to rank the Top 10 pre-finale as a retrospect. So with no further ado …
The American Idol Net Top 10 Performances from Season 12
10. Devin Velez, "Somos Novios." Even though it was a girl's season from the get-go, Devin showed up as a contender during the semi-finals with this song. He took a risk by singing half the song in Spanish and it paid off, helping send him into the finals.
9. Janelle Arthur, "You Keep Me Hanging On." During Top 8 week, the Idols had to cover the Music of Motor City. Janelle picked a familiar song made popular in two different eras. She put her own little spin on it and inserted her twang and came off with the most entertaining performance of the night.
8. Burnell Taylor, "This Time." Burnell wowed me and became one of my favorites when he performed John Legend's "This Time." I'm listening to it again right now as I write this and it's having the same effect. I LOVED this guy's tone in this song. This is the moment that made him a contender. Sadly, he never had another song to showcase his unique tone again before getting cut Top 7 week.
7. Amber Holcomb, "Power Of Love." I went back and forth between this song and "Without You" and I decided this song was better. Amber really felt this song and connected. She's a Celine Dion fan, so this is right up her alley, which is why it turned out so well.
6. Amber Holcomb, "My Funny Valentine." Amber performed "My Funny Valentine" twice, but it was the first time, during the Sudden Death round that was better. Amber remained in the shadow of this performance for the rest of the season and reprised it the week she was eliminated.
5. Angie Miller, "I Surrender." I think this is Angie's best performance not behind a piano. This was from Top 10 week when they had to cover a past Idol's performance. This was from session one when Kelly Clarkson covered Celine Dion.
4. Kree Harrison, "Up To The Mountain." During the Sudden Death Rounds, Kree pulled out "Up To The Mountain" by Patty Griffin and wowed the judges and launched her Idol career that has taken her all the way to the final two. It's a little bit country, a little bit gospel and a little bit soul. And she's reprising it tonight!
3. Candice Glover, "I Who Have Nothing." During Top 10 week, Candice became the third contestant to sing this song on the show. The previous two were Jordin Sparks and Haley Reinhart. Each performed it differently but I think of the three, Candice's version had the most power. This was definitely one of the performances to send her further in the contest. She's set to reprise this tonight.
2. Candice Glover, "Lovesong." Every real Idol contender has THAT moment every season and this was Candice's. First of all, her during a song by The Cure was both risky and amazing. I guess we can thank Adele for covering that song and bringing it into the modern world. Anyway, Candice had her moment and everyone loved it.
1. Angie Miller, "You Set Me Free." Angie's Hollywood solo round has remained the best performance of the season. I don't care if she's no longer on the show and can't win, there's no denying how great this performance was. First of all, it was still during the AUDITION process. And it was an original song. America doesn't tend to get behind unfamiliar songs. But her song is so well-written and well-performed that it became a hit of sorts. And I was never even an Angie fan, but I give respect where it's due. I hear she's singing it during tomorrow night's finale, so maybe we'll get to see a full production of it.
What are your top 10 performances from this season of American Idol?