The new round of American Idol 2014 auditions kicks off on January 15, 2014 with a two-hour premiere episode as the new panel of judges cross the country in search of the best talent and the next big pop star. We have the full American Idol auditions schedule for season 13 for you in detail right here!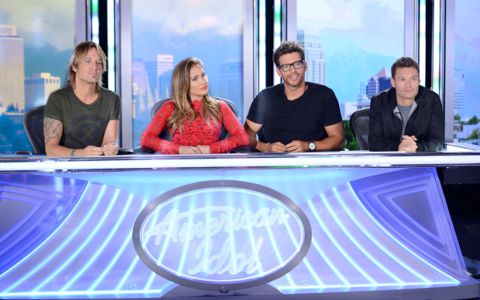 Jennifer Lopez, Harry Connick Jr., and Keith Urban toured Atlanta, Austin, Boston, Detroit, Omaha, Salt Lake City, and San Francisco for the 2014 auditions locations to settle on the Season 13 Golden Ticket holders. From the Hollywood Week spoilers we've seen so far the talent looks awesome.
Starting next week there will be five episodes featuring the American Idol season 13 auditions before wrapping up on January 30th with the always fun "The Road To Hollywood" episode. That night we'll see a clip show of highlights featuring the most memorable auditions plus what FOX is promising to be a "candid look at online submissions." That should be very interesting to compare against the typical open call audition events.
American Idol 2014 auditions schedule:
Tuesday, Jan. 15 (8:30 p.m. ET) World Premiere Q&A Live Online Event (click for video recap)

Wednesday, Jan. 15 (8:00-10:00 PM) Season Premiere, Part 1 – Boston, MA & Austin, TX
Thursday, Jan. 16 (8:00-10:00 PM) Season Premiere, Part 2 – Austin, TX & San Francisco
Wednesday, Jan. 22 (8:00-10:00 PM) Detroit, MI
Thursday, Jan. 23 (8:00-9:00 PM) Atlanta, GA
Wednesday, Jan. 29 (8:00-10:00 PM) Salt Lake City
Thursday, Jan. 30 (8:00-9:00 PM) Omaha, NE & The Road to Hollywood
We've already seen an incredible compilation of American Idol spoilers on who makes it through to Hollywood and even much farther beyond that. If you can't wait to discover which of your favorites in each audition city move on and how far they go then check out our full list of the American Idol 2014 spoilers!
Join us on Facebook, Twitter, & by Email for all the latest American Idol spoilers news, recaps, and more!
American Idol 2014 Auditions Begin January 15, 2014: