With the American Idol 2014 finale rapidly approaching, the question of what it will take to win looms ever larger. According to wildly fluctuating fan polls, it's still anyone's guess who will come out on top for season 13.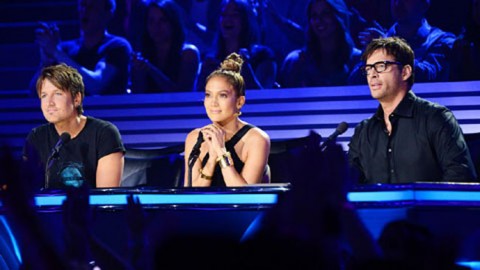 Even American Idol judges Jennifer Lopez, Keith Urban, and Harry Connick Jr. seem to have trouble pinpointing exactly what exactly the viewers want to choose the season 13 winner. Although all of them do seem to feel consistency is a big part of it.
After Malaya Watson's elimination, the American Idol 2014 judges, and mentor Randy Jackson, shared their thoughts with Fox Audio Central on whata finalist needs to do to establish themselves as the front-runner.
What will it take to win the competition?
Jennifer Lopez: "Yeah, it's consistently great performances and that's what we're seeing every week. You know? They want to hear perfect. It seems that's what I'm seeing. Doesn't even matter so much the performance quality, so long as the voice is perfect, which I don't quite understand, but you know, I go more with feeling, but that's me."
Harry Connick Jr.: "It's impossible to say, just because you have a guy like Alex who is a certain style and a guy like Caleb and Jena and they all have very different things that they're bringing, so it's anybody's guess right now."
Randy Jackson: Well, you know what always happens at this point, and Keith has been here with us for a couple years now, it's consistency at this point, but consistency of greatness. Every time you're on that stage, giving a winning performance.
Keith Urban: And connecting.
Randy Jackson: Yeah.
Keith Urban: You've got to connect that performance too.
Randy Jackson: Got to connect.
Keith Urban: You can do a great performance, if it doesn't connect through the screen people don't get moved to vote for you.
* Interviews courtesy of Fox Audio Central