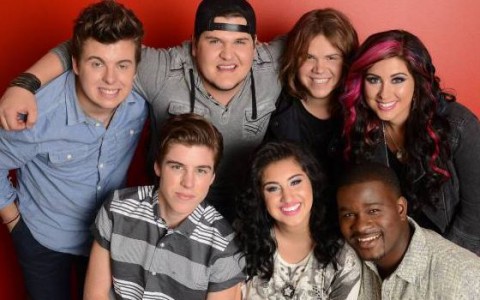 This week on American Idol 2014, the Top 7 get to pick songs for each other! That's an American idol first, and I have to say, I'm pretty impressed by the idea.
Especially since I pick songs for them every week. They never listen to me (or know I exist), but the thought is still the same. Ha. But anyway, that's what I'm about to do now. So what should the contestants pick for each other? Here's what I'd pick:
Jessica Meuse, "Paint it Black" or something else by the Rolling Stones since Jena did "Paint it Black." I just want to hear her do her take on a good classic rock song.
Alex Preston, "We Can't Stop" by Miley Cyrus. Stick with me here. I heard him do a cover of this on YouTube and it was awesome. I always sort of liked the song, but hate the way Miley sings it, so Alex covering would be awesome. So yes, please.
Sam Woolf, "Change the World" or "Wonderful Tonight" by Eric Clapton. I don't know why, but I've thought Sam should sing Eric Clapton since I first saw him. Maybe it's the guitar. But if he's smart, he'll sing something much younger so people will vote for him.
Jena Irene, "You And I" by Lady Gaga. Just her and the piano. I think it could be pretty awesome.
Caleb Johnson, "Sweet Child of Mine" or something by Guns N Roses. I want him to do some major hair band song. Last week for 80s week I had suggested Bon Jovi, so that or GNR would be great this week.
Dexter Roberts, "Night Moves" or something else by Bob Seger. I want to hear him do something that's not 100 percent country. Does he know he can take a song and turn it into a country song?
C.J. Harris. I can't suggest a song for C.J. because I have no idea who he is as an artist and I don't understand how he's still in the competition. I do wish he'd do something fun and upbeat, though.
What would you like to hear the American Idol 2014 Top 7 sing?