The countdown is on for the winner of American Idol 2014 when things ramp up this week with the Top 13 finalists taking the stage for your votes!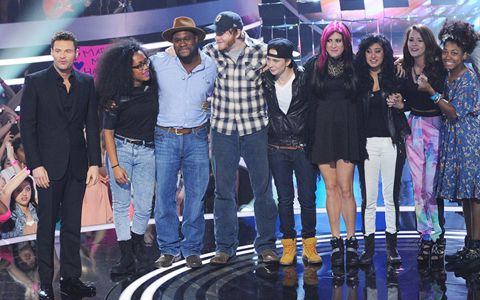 Starting this Wednesday on FOX the finalists return and kick off the weekly combo of live performances followed by elimination results delivered by Ryan Seacrest. In three months we'll hit the late May 2014 season finale and crown a new winner.
This week's live show on Wednesday will feature performances centered around the theme "This Is Me." Thankfully it seems American Idol is finally kicking the tunnel vision week themes and letting singers open up, pick songs they can do, and knocking it out of the theater.
We'll be watching for spoilers to share on song picks along with our weekly recommendations for what we'd like to hear from the budding artists.
Then on Thursday, February 26th, the first finalist will be revealed and that will all be part of a full, one-hour episode. We're not sure what ever happened to that 30-minute results show rumor, but if it's happening it won't be this week.
Are you ready for the next American Idol to be crowned?
Be sure to join us on Facebook & Twitter for the latest Idol updates!