Looking for the American Idol spoilers on Marrialle Sellars? Here is all the info on how far this 17 year old high school student makes it on Season XIII.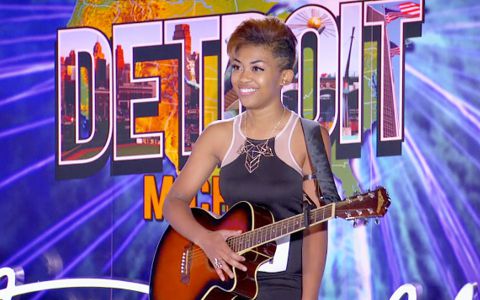 Marrialle launched the American Idol 2014 season with her appearance on premiere night with a performance of Bruno Mars' "Grenade." It was a no-brainer decision for Keith to immediately offer her a Golden Ticket and the other two judges followed his lead. Interestingly Marrialle filmed another segment matching the first but this time she performed Adele's "One and Only."
How far does Marrialle Sellars make it on American Idol XIII? Thanks to our Idol spoilers it appears Marrialle survives Hollywood's new "do or die" round and the group performances to move on to the 2014 Top 31 performers.
Her next challenge will be garnering support from audience members for their votes to keep her alive in the competition. I'm guessing that won't be much of a challenge for this incredibly talented young performer.
Will Marrialle Sellars win American Idol 2014? Let us know what you think!
click thumbnails for full-size view
Marrialle Sellars auditions on American Idol XIII: