Marrialle Sellars, 17, was one of the first contestant auditions we saw featured in the American Idol season 13 promos, and we were already fans before the season even started. Then we saw her at the opening of the American Idol 2014 premiere… and yet again at the close of the third night of auditions in Detroit. Seems Marrialle has gotten a lot of screen time! Are the producers trying to tell us something, or what?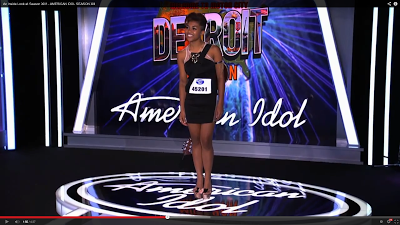 (As Erica Bell) Website | Facebook | Twitter | Fan Twitter | YouTube | Instagram
American Idol Marrialle Sellers Audition 1:
American Idol Marrialle Sellers Audition 2:
Background:
At the initial American Idol season 13 auditions in Detroit, Indianapolis resident Marrialle Sellars told CBS Detroit it meant a "whole lot" to get to audition for the show. "Singing is my life and I couldn't think of my life without it," she said. Marrialle's sister also auditioned, but sadly did not make it through to Hollywood.
Interestingly, we had an American Idol 2014 source who posted several videos from a person named Erica Bell with the label "Marrialle Sellers" on their YouTube channel. The channel owner owner told us directly when asked that Erica Bell was the name used by Marrielle before she auditioned for American Idol season 13.
While looking back through Marrielle's social media accounts, especially her various Twitter accounts, it seemed obvious Marrialle and Erica are indeed the same person. We are not sure why she would use a different name on American Idol, especially after already establishing an Internet presence, building a website, and releasing music under the name Erica Bell, which we believe may be her actual real name. From what we can determine, 'Marialle' seems to just be a stage identity created for Idol.
After asking through various channels about the name change, we finally got a response from Erica a.k.a. Marrialle directly via Twitter. She told us, simply, that "I'm me, stage name or not. And Marrialle stands out."
Marrialle is currently a senior in high school, but feels it is well worth it to miss school and get behind for the chance to be on American Idol. According to her Facebook profile, Marrialle may have once lived in London, which she calls her "hometown" before moving to Indianapolis. She has also apparently traveled to the Philippines. She also seems to have a very handsome man in her life as well, since her Facebook page was full of photos of the two of them snuggling and kissing. So hands off guys!
We also learned from her Facebook feed that Marrialle's father is sadly deceased, but is a huge inspiration in her life. It appears she also is a fan of performing on stage, as she appears to have been a member of the LC Center Stage Drama Club and involved with the cast of The Wiz back in 2011.
While there were quite a few videos out there under the name of Erica Bell, it was harder to find clips of Marrialle Sellers performing under that name. We did find a very sweet YouTube video of Marrialle performing an original song titled "We're Gonna Miss You" she wrote for her choir director on this channel, which features a couple of videos of her. So it seems Marrialle has writing chops as well!
Here's another video of Marrialle performing "Payphone" by Maroon 5 and we just love her voice on this one.
We can't wait to see more from American Idol Marrialle Sellars as the season progresses and we'll be sure to keep this page on her updated with all the latest!
Marrialle Sellars has survived so far to make the 2014 Top 30. Do you think she has what it takes to get all the way to the Top 12?