American Idol auditions resume on Wednesday night from Salt Lake City, Utah and we have a a bunch of great sneak peek videos to share! From the American Idol spoilers we've seen and heard about the contestants from the Crossroads of the West, it looks like it is going to be a great night of talent and more wacky fun from the judges!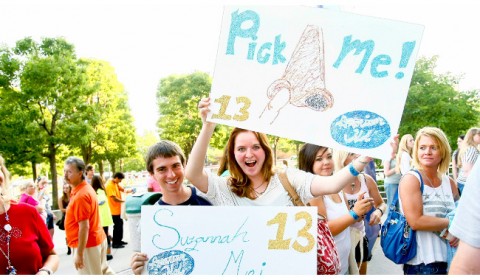 First up in our American Idol 2014 auditions sneak peek videos from Salt Lake City is 25 year old mental health worker Samantha Calmes, who stands out for the judges first for her unusual fashion accessory.
Next up we have Carmen Delgina, a 24 year old sales clerk from Las Vegas,  NV. Carmen's dad is Wonder Mike from The Sugarhill Gang. But can Carmen prove to be as good as dear old dad?
Kylee Adamson, 18, has a rather unusual job that startles the American Idol judges. Will they be giving her a new career to pursue after her audition?
We've heard a lot of gossip about 20 year old Alex Preston in pre-season American Idol 2014 spoilers. Is he really as good as the rumors say he is? Take a listen and judge for yourself.
Last but not least, 16 year old Kenzie Hall seems to have the American Idol judges rapt with attention during her audition. Do you think they will be handing her a Golden Ticket on Wednesday night?
American Idol Salt Lake City Auditions Photo Gallery
(click the pics for bigger photos or to scroll through)