The American Idol 2014 Top 10 finalists take the stage tonight to perform for your votes in the next round of the finals. Which one of them will be sent home tomorrow night after failing to impress the viewers and American Idol judges Harry Connick Jr., Keith Urban, and Jennifer Lopez tonight?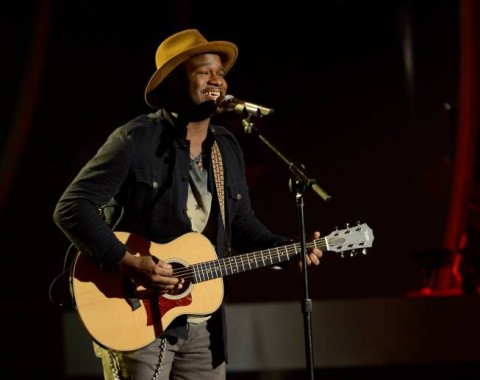 We'll be bringing you all the action in our live American Idol recap tonight as the Top 10 contestants take on the Top 10 from the Billboard charts. We've already made our predictions about who is most likely to end up on bottom this week. Our readers have also made their favorites from the Top 10 known. But just one great performance can always lift a singer out of danger.
Join us on Facebook & Twitter for the latest Idol updates!
And here we go! It's morning time for the American Idol finalists and we have host Ryan Seacrest with a video montage of the contestants taking selfies as they get ready for and go through their day.
Ryan introduces the American Idol judges, who take a brief moment to call out some of the signs from the audience. Then Keith explains that the singers could choose any song from 2011 to today that were in the Billboard Top 10 from any chart.
Ryan and the judges talk a bit about the earthquake, and Harry Connick Jr. says he was "doin' the nay nay" at the time and didn't feel it.  Which, by the way, does not mean he was getting busy. It means, if we heard it correctly, that he was sleeping. Harry is, once again, just weird.
Now we have the American Idol 2014 Top 10 taking the stage. They all visited with Ryan Seacrest this week to talk about their song choices. Then it's time for the performances!
M.K. Nobilette – "Perfect" by Pink
Well, we aren't sure what to think about MK's now half pink hair, but this song choice kind of doesn't work for us. She sounds pitchy and strained on the song, although she does look a little more comfortable on stage with this performance. The American Idol judges are not overjoyed at the song and point out how she messed up in the middle. Keith thinks she recovered, but J-Lo and Harry don't. J-Lo liked the emotion in the beginning of the song, but Harry thought she sounded like she was singing on top of Pink and not doing it well.
Vote for MK: 
Text 6 to 83676
Call 1-855-4-IDOL-06 (1-855-443-6506)
Dexter Roberts – "Cruise" by Florida Georgia Line
Dexter has picked another good ole country boy song, which is what works for him and what his voters like. Let's face it, Dexter is a good country singer and this is his wheelhouse. Maybe not his most exciting or perfect performance, but it's hard for him to go horribly wrong with any country song. The audience screamingly loves it. And the judges are pretty much on board as well, although they think it was more on the "good" side than the 'great'. Although Harry thinks it was actually not so good. He's being kind of harsh tonight. J-Lo boos him, Keith thinks it was good but the beginning was better than the end.
Vote for Dexter:
Text 1 to 83676
Call 1-855-4-IDOL-01 (1-855-443-6501)
Jena Irene Asciutto – "Clarity" by Zedd/Foxes
We think Michelle Chamuel on The Voice  killed this song way harder. Jena sounds like she is struggling with the vocals on this. What is with everyone coming across as pitchy tonight? And we were not feeling her yelling at the audience to "get those glow sticks up!" It was weird. Her belts verge on screaming. The American Idol judges are more complimentary than we are. Harry is excited about what kind of songs Jena could do in this genre and he really liked it. Keith thinks it was the best performance of the night so far, not that we think that says a lot. J-Lo also loved it and thought it was perfect for her.
Vote for Jena Irene:
Text 8 to 83676
Call 1-855-4-IDOL-08 (1-855-443-6508)
Alex Preston – "Story Of My Life" by One Direction
This is kind of an odd song choice but if he can please the 'Directioners' that wouldn't be a bad thing at all for his voters. We think he's really made the song his own and given it his own stylistic twist. Once again we are reminded that Alex is truly an artist and a musician, not just a singer. This is by far the best performance of the night. Gorgeous vocals and an emotive performance. Great job. The judges are all on board and agree it was a fab performance.
Vote for Alex Preston:
Text 9 to 83676
Call 1-855-4-IDOL-09 (1-855-443-6509)
Malaya Watson – "When I Was Your Man" by Bruno Mars
This turns out to be a good song choice for Malay, despite the weirdness of the lyrics being geared toward a male singer. She keeps the song smoother and reined in, which is great. Sometimes she tips too far over and starts screaming and losing the subtle sound of her songs. Nicely done and one of her best performances. J-Lo had goosies even though the lyrics were still for a guy. Harry thought it was sincere and she was totally present in every word, but says she should work on learning more about doing runs. Keith thinks it was well done and she knocked it out of the park vocally. He's also happy to hear her have more control. Ryan gives Malaya a pot of flowers from Harry on stage. It's odd.
Vote for Malaya Watson:
Text 2 to 83676
Call 1-855-4-IDOL-02 (1-855-443-6502)
Caleb Johnson – "The Edge Of Glory" by Lady Gaga
So this is a bizarre song choice, but we loved when he did Adele so we were looking forward to hearing this. Honestly, we are liking it almost as much as his "Skyfall" performance. He's giving it a great rock edge and his vocals are sweet for the most part. We like that he doesn't just stick with his rocker image and goes out of the box. Not perhaps his best performance, but we enjoyed it. Harry says Caleb gets an A for originality, but it wasn't his best song. Keith didn't dig it quite as much as Harry and thought it lumbered along a bit. J-Lo says she's in between the two guys. She liked the song, and thought Caleb sounded great, but it lacked a little feeling for her.
Vote for Caleb Johnson:
Text 13 to 83676
Call 1-855-4-IDOL-13 (1-855-443-6513)
C.J. Harris – "Invisible" by Hunter Hayes
This is a pretty song choice for CJ but we don't think he blows it out of the park. We think he could have picked something a little more powerful and given us a bigger performance. But it's sweet and he does a good job with some very nice notes. There are other places though that it sounds a little pitchy and weak. The American Idol judges are not totally crazy about it. Keith thinks it was really shaky and pitchy. J-Lo isn't overjoyed either and neither is Harry, who gives an example of how he was off pitch and has a tendency to sing sharp.
Vote for CJ Harris:
Text 5 to 83676
Call 1-855-4-IDOL-05 (1-855-443-6505)
Jessica "Jess" Meuse – "Pumped Up Kicks" by Foster The People
While we don't like this song because it's basically about kids shooting other kids, it's a relatively good song choice for Jess. She sounds good on the vocals, especially the chorus. Although we prefer when they sing solo and don't have back-up vocals playing with them as it makes it harder to judge how well they are singing. The audience seems to be happy with the song. J-Lo was really pleased with the performance as well. Harry, however, thought Jess wasn't connecting with the lyrics because she has a one dimensional performance. Keith thought it was good and he liked it.
Vote for Jessica Meuse:
Text 10 to 83676
Call 1-855-4-IDOL-10 (1-855-443-6510)
Majesty Rose York – "Wake Me Up!" by Avicii/Aloe Blacc
We think this is a much better song choice for Majesty than last week, when she really sounded not good on "Let It Go." However, we still feel it is a bit of a weak performance and she looks scared and uncomfortable tonight. She has a good moment or two, but the song overall comes across as bland and lacks emotion. Harry really liked what Majesty did with the tune and her interpretation of the song. Keith disagrees with Harry and thinks the song didn't work just as a straight folk arrangement, but her voice was still good. J-Lo thinks Majesty showed fear on stage tonight, but she started to recover about halfway through.
Vote for Majesty Rose:
Text 7 to 83676
Call 1-855-4-IDOL-07 (1-855-443-6507)
Sam Woolf – "We Are Young" by Fun/Janelle Monáe
Immediately we thought, oh no, not this song. We've heard it so many times it just hurts us to hear it again. However, Sam actually sounds pretty good on it, although we wouldn't call it a wow moment performance. He needs to own the stage more and put more emotive quality into the song. We'd also like to just see everyone sing WITHOUT an instrument next week please. The judges really don't have much time to say anything. It just comes across as "yeah that was pretty good."
Vote for Sam Woolf:
Text 12 to 83676
Call 1-855-4-IDOL-12 (1-855-443-6512)
What did you think of the performances tonight? Who do you think will go home in the American Idol results on Thursday?