We don't want to give you any American Idol spoilers about the Top 8 elimination results show tonight in case you haven't seen it yet. So if you have yet to watch the show, we urge you to click away from this post now!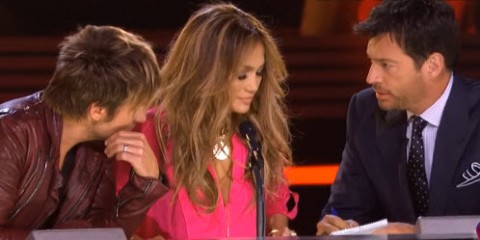 If you have seen the American Idol season 13 results show for this week, we have a question we want to ask you. Do you think the American Idol judges made the right decision about their save power tonight?
WARNING: American Idol 2014 SPOILERS ahead for the Top 8 elimination results!
We found this to be quite a surprising night in some ways on the American Idol results show this week. When host Ryan Seacrest announced right off the bat that the first person to be safe was Dexter Roberts… that was not what we were expecting. Based on our reader's polls, past voting results, and the chatter on social media, we thought he'd end up in the bottom three.
The next surprise of the night, although not really a complete shocker, was finding out who the bottom three were going to be this week.
That turned out to be CJ Harris, Sam Woolf, and Malaya Watson.
Our readers love Malaya to death and she was actually ranked as the favorite in our reader's poll this week for her performance last night. We really thought she was definitely going to be in the safe category this time around. However, we're aware that our readers seem to be way more fond of Malaya than the Idol viewer base out there in general. Sometimes we suspect all her family and friends are hanging out here just waiting to vote in our polls…
Sam and CJ being in the bottom three wasn't all that shocking. They've both been riding in the bottom of the pack for weeks. Between the two of them, however, we really thought it would be CJ who would get the boot before Sam. Let's face it, the whole WGWG (white guy with guitar) syndrome on American Idol is very strong, especially when the WGWG happens to be very cute and young.
Perhaps it is the big changes in limiting voting this year, but we were proven very wrong this week when it wasn't CJ who got voted off American Idol tonight by the voters. Malaya was also safe, so our readers can be thrilled about that. Instead, it was Sam who ended up in last place and facing elimination.
For his 'save me' performance, Sam actually gave a quite nice performance of "Babylon" by David Gray, if not terribly exciting. Something about the looks going around the American Idol judges table told us even before Ryan Seacrest asked… we just knew they were going to save Sam.
And that's exactly what they did. Now we have people weeping with happiness that Sam was saved, and others crying out that the show is rigged and this was "planned" all along. (We remember when people screamed that it was "planned" when Jessica Sanchez ended up in the bottom two so her fans would rally to help her win — she didn't.)
We don't mind that the judges used their save to rescue Sam, but we're worried about what happens next. Although we are pretty sure that it will be either Sam or CJ who gets voted out next week, weird things do happen at this point in the competition. We could have some sort of crazed reaction where everyone votes for Sam next week and (gasp!) Caleb falls into the bottom, or Jena Irene, or… you get the picture. And then the judges can't save them… That would be very bad indeed.
With that in mind, we have to ask… do you think the American Idol judges made the right move in using the save to keep Sam in the running tonight? Or do you think they should have let America had the final say with their votes?
click images to see full-size