It's American Idol 2015 premiere week and we've already talked about what we want to see from the auditions this season, so now we're shifting our focus on the judges.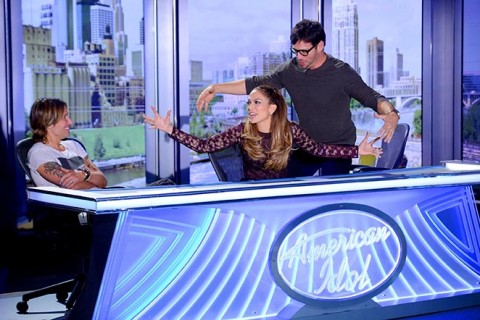 I talked a little about what we'd like to see from the judges during the audition process, but their work doesn't stop there (even though I've always thought it should). So what would we like to see from the Season 14 judging panel? Let's take a look.
Harry Connick Jr. First, let me say that I'm actually a fan of Harry as an Idol judge. I think someone with his musical knowledge was way overdue on that panel. So he doesn't have to do much to actually impress me on American Idol 2015. I also really appreciate that he's sort of the "mean" judge. Not that he's Simon Cowell mean or anything, but he tells it like it is. That being said, I'd actually like to see Harry be a little more upfront. I don't think he can pull of the snark like Simon did, but I think he can give a little more tough love.
On the other hand, Harry often comes off as a creepster with some of the female contestants. He sends off these really judgmental vibes if he doesn't like what a girl is wearing or how she's carrying herself. I think that's just the father in him, but it does not read well on TV and he needs to cut it out. Stick to judging their voices and performing.
Jennifer Lopez. JLo needs to toughen up. She's not even the nice Idol judge (that's Keith in my opinion), so she could definitely be a little more honest with the contestants she's not feeling. I appreciate her empathy, but this is a contest and sometimes we need constructive criticism.
And what Jennifer needs to keep doing is enjoying the performances. There's never been a judge get so into a performance as Jennifer. It's great to see her dancing along with the contestants performances. And we could always use some more "goosies."
Keith Urban. In my opinion, Keith is as near perfect a judge as there is. He's nice, but he also lets contestants know when it's not their best. But he does so in such an unoffensive way, that a contestant can build from the criticism and actually improve.
Keith also is the judge most like the actual contestants. He actually participated in an Australian singing competition show and he worked his way though the ranks to get where he is. I'd love to see him offering the contestants more personal advice.
The judges as a whole. I'd love to hear them disagree more. I feel like they're all so afraid of disagreeing, that the panel lost some of the appeal the earlier panels gave us. I loved hearing Simon and Paula Abdul bicker. It was actually pretty entertaining. I don't expect us to get much of this, but one can hope.
What would you like to see out of the American Idol 2015 judges?