Hollywood Week elimination results revealed who went home last night on American Idol 2015 and who made it through to the next round of performances.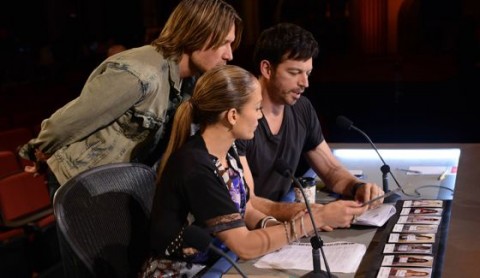 Doing things a lot different from last year's disastrous "Hollywood Or Home" round where bus loads of singers were sent back to the airport having never even entered their Hollywood destination, we saw a wave of mercy last night on American Idol 2015.
Surprising, and worrying, the American Idol Hopefuls, the Judges called a series of performers to take the stage and hit us with thirty seconds of their best stuff. What those singers didn't know was they were selected based on their memorable performances during the American Idol auditions phase.
Thirty eight singers climbed those steps and sang for the crowd of over two hundred before the Judges' intentions were revealed. Despite several of the singers giving disappointing performances that left the Judges unsure of their previous decisions, they were all safe. All 38 Hopefuls from Day 1 made it through to sing another day.
click image to see full-size view
Watch as the American Idol 2015 crowd of Hopefuls learn they're all safe on the first day of Hollywood Week.
Not only did those first singers find safety, but so did the other 180 remaining Hopefuls who had the chance to return on Day 2. Things changed that day though when singers were placed in groups of 10 and performed in rapid fire succession. Many Hopefuls were cut including Priscilla Barker and Jacob Tolliver as the tears flowed off stage.
There are more American Idol results coming up tonight with more performances and eliminations as Hollywood Week continues!
Want more American Idol results? Read our Top 24 list for all the latest spoilers.