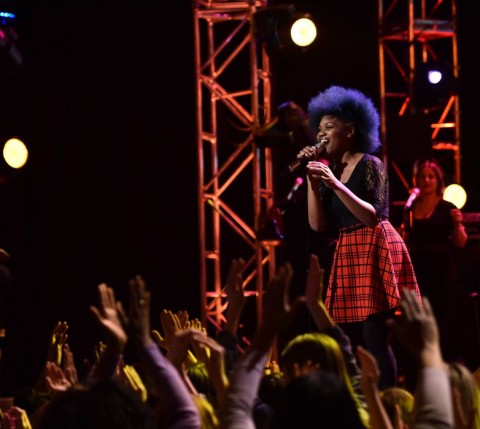 A somewhat surprising American Idol 2015 Top 16 took to the stage last week and it became clear fast that not all of America' s choices were right.
So even though America is voting oddly, I'm back again for a new set of American Idol Season 14 Power Rankings. I'm basing my decision greatly on their performances from last week, how they're doing in polls and our own search results.
Top 8 Girls
1. Jax. Her performance wasn't great last week and the judges even let her know, but America still seems to be really into her. I think she's going to stay at the top for a while.
2. Tyanna Jones. One of the best singers in the contest, I'm not totally sure she's actually ranking this high with America, but if they know anything about music, then I could be right with this.
3. Joey Cook. I don't get her at all. I hate her performances, but she's doing something the judges and America like, so I think she's in a good position.
4. Sarina-Joi Crowe. Another great singer that could either be resting here in the middle or closer to the bottom. I'm not totally sure, but right now I'm just going to make a gamble that she's safe this week.
5. Maddie Walker. I would like to rank her higher based on her performance last week, but I'm afraid her on-stage persona isn't going to register well with voters. She could be in danger but I think I'm going to put her in the safe zone one more week.
6. Adanna Duru. I didn't expect Adanna to make it last week, but she did and her performance after that was solid. I think I'm going to again suggest that she might not pull through to the next round. Maybe I'll be wrong again.
7. Loren Lott. I find Loren very pretty but very generic. I can't imagine her surviving another week.
8. Alexis Gomez. I was totally shocked when Alexis made it through last week and I'll be even more shocked if she can do it again. Especially after her not-good performance last week.
Top 8 Guys
1. Daniel Seavey. Of course America is going to love this guy. He's adorable and no one cares that he's not a great singer yet.
2. Qaasim Middleton. I think his energy will carry him through another week. He might end using becoming a one-note performer though, so I don't expect him to rank this high much longer.
3. Clark Beckham. I was a bit surprised America picked Clark over Michael. I knew it would eventually be one or the other, I just wasn't sure it would be Clark. So I think he will make it far into the competition now.
4. Adam Ezegelian. I don't know if this guy's goofy nature will wear thin, but it doesn't seem to be wearing thin yet. He's probably got a few more weeks left.
5. Mark Andrew. I don't know about this guy. He has a good voice, but I don't find him exciting, so that means America probably loves him. So I expect him to be safe this week.
6. Nick Fradiani. I think Nick's time might be up this week. He's really handsome and he looks like a winner, but he's kind of boring.
7. Rayvon Owen. I love Rayvon, but I have a feeling America doesn't. So I expect him to go but will be pleasantly surprised if he doesn't.
8. Quentin Alexander. I don't see Quentin and Qaasim lasting together. Like Clark and Michael, I think it will be one or the other. And I think Qaasim has the edge.
How would you rank the American Idol 2015 Top 16?