Next week on American Idol 2015 the Top 12 contestants are revealed when America's vote is announced and the Judges make their own Wild Card picks to round out our Season 14 finalists.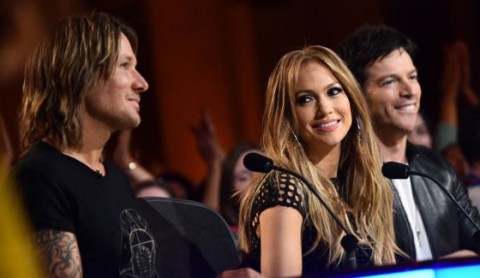 Following this week's performances by the Top 16 Guys and Girls the voting has wrapped up and set the stage for who is automatically moving on. Only the top five vote earners for both the guys and girls will be assured a chance at performing again next week. The rest are up to the Wild Cards.
While originally rumored to include even this week's eliminated singers, only the bottom six contestants still in the race will be eligible for another chance at your votes. Judges Keith Urban, Jennifer Lopez, and Harry Connick Jr. will then select from those six to find us two more singers to carry on in the next round.
On Tuesday the American Idol 2015 Top 12 performances will be recorded but we won't see that episode until Wednesday night at 8PM ET/PT. Then we'll officially see who was eliminated and who made the Wild Card cut.
During Wednesday's broadcast the Top 12 will return to their audition performance song selections, so no surprise there on what we'll be seeing them sing for the next round of voting.
Then on Thursday night, 8PM ET/PT on FOX, the Top 12 will be reduced to the Top 11 and another round of performances. Is your head spinning in a dizzy yet?
We'll have elimination spoilers for you next week since the Wednesday's American Idol episode is taped the day before so be sure to join us on Facebook, Twitter, and by Email Updates to get the latest results and updates.
Source: TV Line