Group performances return tonight on American Idol 2015 with the Hollywood round entering its second week and the Violet Vixens ensemble is ready for their turn with a Queen cover.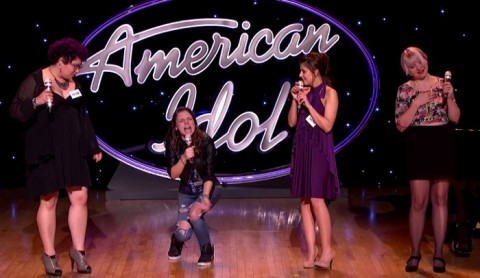 Familiar faces from the Vixens group include Joey Cook and Shannon Berthiaume who have been prominently featured earlier on American Idol Season 14, but the talent is strong across the board with these ladies as they sing Queen's "Somebody To Love."
Joey actually stumbles through the lyrics but makes a comeback that has the Judges laughing which just might give her the edge to avoid the typical punishment for that mistake. Then we see Shannon come in strong and prove again why she's a contender in these early stages of American Idol.
click images to see full-size views
Overall this looks like a great performance giving all the members of Violet Vixen a solid chance at moving on. Watch their performance in the sneak peek video for tonight's American Idol 2015 and see for yourself if they've given us "Somebody to Love."
If you can't wait to find out how the Judges elimination goes for this group, check our spoilers for more info.