American Idol returned to familiar ground in last night's auditions episode as Ryan Seacrest and company picked up where they left off in Denver and Little Rock for the next round of Golden Tickets.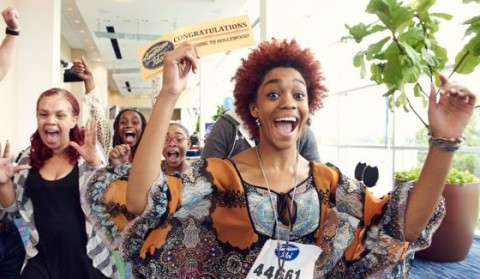 FOX has split up the audition cities to keep us from getting too much of any one town and that makes for a nice mix of talent and auditions. After last night's Philadelphia auditions we'll see the Judges head south and west to see what else is in store for us.
Already we've racked up a lot of Golden Tickets and that's going to keep rolling with plenty more trips to Hollywood waiting to be delivered and it looks like that list will include James Dawson and Terrian Bass. Stick with us tonight for our live recap right here as we add more names to that Hollywood Week list and see who goes home empty handed.
First up tonight we've got James VIII and Amber Lynn who arrive as a pair after James came along for support but was talked in to auditioning as well. Finishing up Harry warns James that he was playing too fast but Jennifer says Amber Lynn is a great singer. She's gonna get herself a ticket, right?
Now it's James Dawson's turn with a John Legend song. I'm really not a fan of his performance here, but we'll get more chances to hear from him because they're both on through to Hollywood.
Speed things up here with the next Hopeful. We've got Emily Wears who is a professional auctioneer and she gives a few test runs with Ryan Seacrest and again with the Judges. I'm not sure how she can sing after all that, but she does with "Bring On The Rain" by Jo Dee Messina.
It's a good performance and Harry praises her vocals, but says that overall, it wasn't strong enough. Jennifer thinks it also lacked the energy while Keith says her voice drifted. It's a no for the judges and Emily Wears is out the door empty handed.
Changing the pace we've got CJ Johnson who is a dedicated musician looking for that big break with a ticket to Hollywood. He's singing Hall & Oates for the American Idol judges. ALl three judges love what CJ Johnson delivered. Keith says he immediately connects with a road warrior like CJ while Harry loved the energy. It's three "yes!" votes across the board.
Another shift here with Ethan Kuntz, a 15 year old student from Nashville. Ethan arrived with his guitar and the judges are impressed by his Blues performance. Keith didn't expect the powerful voice Ethan delivered while Harry tells him he shouldn't be doing anything else with his life. Harry doesn't think Ethan Kuntz is ready, but Jennifer disagrees saying that some people are "born ready." The deciding vote comes from Keith… he's torn and agrees that Ethan isn't ready but wants to hear more from him. He's on to Hollywood.
Back to the ladies we've got Mary Williams singing some classic Country with Tammy Wynette. Mary is a world class donkey rider. No really. Jennifer likes the performance, but Keith says it was missing the emotional depth that he expects from a Wynette song, calling it more "performed than confessed." Jennifer and Harry disagree with "yes" votes while Keith affirms he's a "no," but it doesn't matter as Mary Williams has her Golden Ticket.
Xavier Soller is looking to amp things up with the judges and has them all shoot baskets since his the crowd MC for the Denver Nuggets. JLo is the only one to make it as she sinks the basket before Xavier shifts to his performance of "Friends In Low Places." Okay, it's not great, but he's fun. The judges let him down easy and thank him for coming out.
Terrian Bass was on our preview list so we knew to look out for her and her performance of "Happy" which the Judges seemed to like even if they weren't bowled over by it. Terrian delivers a backstory of living in a tough neighborhood which JLo likes as a nice juxtaposition from her song choice. It's three votes of "yes" and she's off to Hollywood.
Well here's another oddball performance with "Blue" who writes a song on the spot for the Judges. Harry says it sounds like a "Jewish prayer song" and thinks singing isn't the right thing for her, but he doesn't expect that to slow her down. All three think she's got a great spirit and creative mind, but Blue isn't a good match for American Idol 2016.
Does Thomas Stringfellow have what it takes? He's a 17-year-old student from Bentonville, AR and he's singing "Give Me Love Like Her" to his guitar. Keith likes Thomas's vibe and how he made the song his own without just copying. Jennifer thinks there was a lot going on there to make it his own as well. It's a round of "yes!" votes for Thomas Stringfellow and he's off to Hollywood.
Up next from the audition pool is Tywan "Tank" Jackson, a dance teacher from Ohio. He can definitely control a crowd with his moves, but what about his sounds? Well, surprisingly, not half bad. I mean there's nothing that exactly stands out about him. It's kind of loungey and indulgent, but he's fun and the judges seemed to think so too and he got the three yeses to prove it.