American Idol 2016's Hollywood Week has wrapped at the Dolby Theatre but not before Idol snapped some behind the scenes sneak peek pics to share.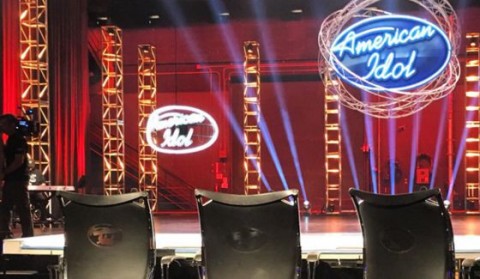 We'll soon be watching the final season of American Idol after it returns to FOX in January 2016, but production can't wait that long to get the party started. Last week Idol Hopefuls were brought to California where they ran the gauntlet of solos, groups, and another final solo performance in their bid to move on in Season 15.
All three of last year's judges were back for the big event with Jennifer, Keith, and Harry taking a seat at the Judges' table to watch performances in a series of important days.
According to MJs, there were two days of solos before eliminations gave way to the dreaded group performances. Singers who survived that round were given one more chance to sing for their Idol lives before the Judges.
click images to see full-size views
In the end we are likely to see something along the lines of an American Idol 2016 Top 48 make their way out of Hollywood, but there's always the chance for a few tweaks and changes. Get ready for American Idol spoilers as the season's finalists continue to be whittled down to prepare for the live shows.