American Idol 2016 winner Trent Harmon has been making the rounds as he performed the national anthem Saturday at the Manny Pacquiao vs Timothy Bradley Jr. fight in Las Vegas, and today he stopped by the Live with Kelly and Michael show in New York City to perform his new single "Falling."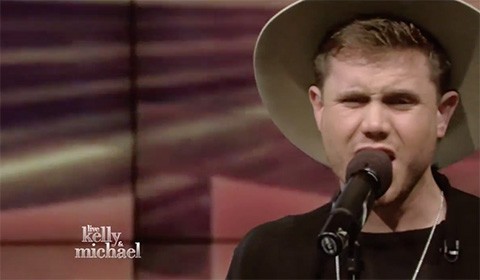 "You know what that was? That was ridiculous good," host Kelly Rippa said after Trent's live performance. "You have an incredible voice. You're even more incredible in person. it's such an amazing thing to be. You are the final winner of this incredible show."
Trent's modest and humble ways continue following his big win last Thursday night.
"I'm a farmer," Trent told Kelly and Michael when they mentioned his Mississippi upbringing. "That's what I've been doing my whole life.'
"Falling" by Trent Harmon peaked at No. 3 on the iTunes charts and currently sits at No. 25.
Also on Kelly and Michael this week are runner-up La'Porsha Renae on Tuesday and 3rd place finisher Dalton Rappatoni on Wednesday.