American Idol is back and ABC is ramping up their preseason game to get things rolling and that means it's time to find the first of the American Idol 2018 Hopefuls. Think you've got what it takes?
Update: Looking for the American Idol 2018 schedule for episodes on ABC? Details here.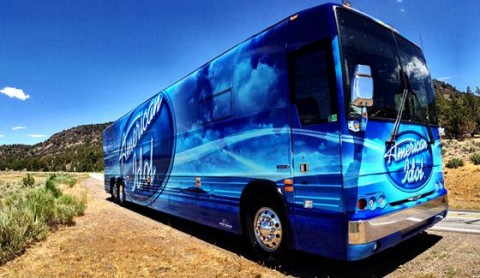 This year for American Idol the age limits are 15-28 years old, so no changes there from what I remember. Idol will again be holding some audition city events, but not as many as we've seen in the past. Instead there are many more bus audition tour stops and you can submit your application and video online. And don't forget about the 'direct marketing' casting efforts that they're working on. Could be some interesting things ahead for next season of American Idol.
Speaking of next season, this would be American Idol 16, but on the eligibility requirements doc (PDF) from ABC, which you should read if serious about trying out, the new installment is being listed as "American Idol Season 1 on ABC." I get that they want to differentiate themselves from the show's history on FOX, but I dunno. Seems weird to try and call it Idol 1 when it's Idol 16. Anyway, on to the important parts.
American Idol 2018 Auditions:
Open Audition Cities
Chicago, IL – September 11
New Orleans, LA – September 14
(Locations and dates subject to change.)
West Bus Tour
Portland, OR – August 17
Oakland, CA – August 20
Provo, UT – August 23
Denver, CO – August 26
Omaha, NE – August 29
Tulsa, OK – September 1
Shreveport, LA – September 4
Muscle Shoals, AL – September 7
East Bus Tour
Orlando, FL – August 17
Miami, FL – August 19
Atlanta, GA – August 22
Charleston, SC – August 25
Asheville, NC – August 27
Louisville, KY – August 30
Pittsburgh, PA – September 3
Annapolis, MD – September 5
Boston, MA – September 8
Can't make it to any of these locations? Then head over to the online auditions at ABC's American Idol website. There you can create an account then submit in your info and video to get reviewed for your chance to be on American Idol! ABC also notes that you're free to try both methods, online and in-person.
Will you be trying out in the American Idol 2018 auditions? If you do then best of luck. We hope to see you on TV performing next season!
Source: ABC