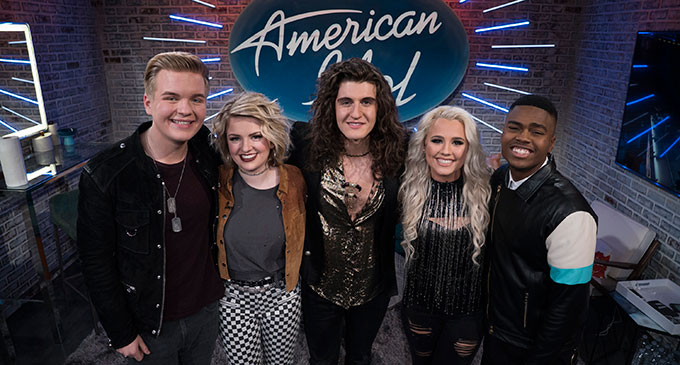 This Sunday on American Idol 2018, the Top 5 will be celebrating Mother's Day with two songs, one in honor of the holiday and the other from American Idol winner Carrie Underwood's songbook.
The American Idol winner will also be on hand to mentor the Top 5 with performing her songs. You don't have to wait until Sunday to find out the songs, though, because we've got those for you right now!
American Idol 2018 Top 5 Song Choices
Cade Foehner
"Simple Man" by Lynyrd Skynyrd
"Undo It" by Carrie Underwood
Caleb Lee Hutchinson
"Stars in Alabama" by Jamey Johnson
"So Small" by Carrie Underwood
Gabby Barrett
"I Have Nothing" by Whitney Houston
"Last Name" by Carrie Underwood
Maddie Poppe
"God Only Knows" by The Beach Boys
"I Told You So" by Carrie Underwood
Michael J. Woodard
"Still I Rise" by Yolanda Adams
"Flat on the Floor" by Carrie Underwood
Those are some interesting song choices. I'm surprised no one picked "Blown Away" by Carrie Underwood, or "Jesus Take the Wheel." The latter would have really gotten some of those American Idol fan votes. Cade's other song, "Simple Man" is pretty predictable. He makes at least the third guy to do the song (Lee DeWyze and Phillip Phillips both sang it on American Idol). Gabby taking on Whitney Houston will be a true test of her talent. I like Maddie's Beach Boys song choice, but Maddie has made great song choices all season. As for Michael's, I predicted he is most likely to go home this week, and I think these song choices kind of seal the deal.
What do you think of the song choices?
About the episode:  In this episode in honor of Mother's Day, the Top 5 finalists will sing songs dedicated to moms, in addition to performing from the catalogue of "American Idol" alum and seven time GRAMMY® winner Carrie Underwood. The Top 5 finalists were surprised with a trip to Nashville and the opportunity to learn from Underwood while she served as superstar guest mentor for the week. Underwood will also perform her hit single, "Cry Pretty," which she co-wrote and co-produced, from the Idol stage on Sunday. — ABC