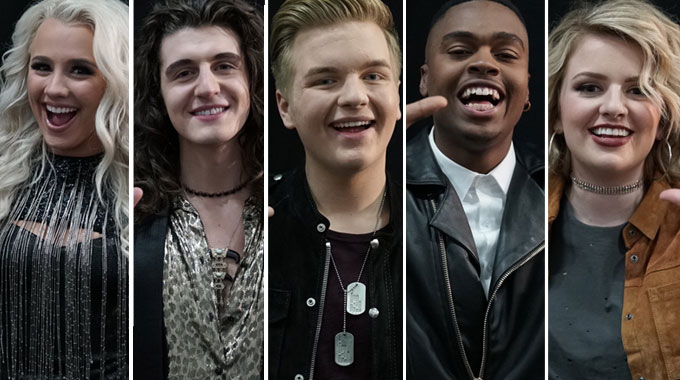 Who will win American Idol 2018? Now that we are down to the Top 5, that is the question everyone is asking.
There have been a couple clear frontrunners from the start of the American Idol season and that's Gabby Barrett. The judges lover her. The producers love her. According to her social media accounts and blog polls, fans love her. And then there's Cade Foehner. American Idol fans love their guys with a guitar. He has also had a following the entire time. He tops many polls, he has had a steady increase in social media followers, and according to the American Idol judges, can basically do no wrong.
But wait a minute. Maddie Poppe has quietly climbed into this race. She has held her own in recent weeks with some amazing performances, and her social media following has been one of the fastest-growing. Could she be that dark horse who takes us by surprise?
I also don't think we can count out Caleb Lee Hutchinson. American Idol fans love country music, and he's cookie-cutter country, so he might just come all the way from behind and win it all.
That leaves Michael J. Woodard. He is arguably the most talented contestant left, but I'm afraid he is also coming in fifth place, I think. Unless he does something amazing this week with a Carrie Underwood song then he's probably going home. It's almost like this crucial theme was set up for … wait for it … Gabby Barrett, who has named Carrie as one of her biggest influences.  I mean, she's already performed a Carrie song this season if that tells you anything. So, yes, what I'm plainly saying is Michael has been set up to fail this week, whether that was on purpose or not.
So now that I've summarized my thinking, let's break it down one by one, in order of most likely to win to least likely to win.
Who will win this season of American Idol?
1. Cade Foehner. I know I've said Gabby is probably going to win, but I'm going back to my gut on this one. I know when American Idol fans have fallen for a guy. I called it when Phillip Phillips won Season 11 (despite everyone calling it for Jessica Sanchez), when Caleb Johnson (who?) won Season 13, when Nick Fradiani won Season 14 (despite everyone thinking Clark Beckham would win), and when Trent Harmon won season 16. Heck, I called Trent Harmon winning American Idol during Hollywood Week that season! American Idol voters are predictable. So don't be surprised if Cade wins.
2. Gabby Barrett. You know what? Maybe American Idol voters have changed during the past two years. Americans have been surprising me a lot lately with how they vote for things, so maybe they're finally over the guy with the guitar. Maybe Gabby will break that streak where a girl can actually beat a guy (that hasn't been done since Jordin Sparks beat Blake Lewis all the way back in season 6). If anyone can beat Cade, I think it's Gabby.
3. Maddie Poppe. I love that Maddie has sort of emerged as a contender. I've loved her this whole season, but she doesn't fit the American Idol mold, so I've been sleeping on her. But now I think there's a possibility she could pull this off. Or at the very least make it to the finale. Again, I'm not completely hopeful, but I guess it's possible. And don't get me wrong, I'd love for her to win over the other two I've listed above her. I just don't know if it can happen. If she pulls out a good couple of songs this week, maybe she can pull in some new voters. She isn't completely unlike Carrie Underwood. Honestly, to me, she's more like Carrie than Gabby. Maddie is completely natural while Gabby seems manufactured.
4. Caleb Lee Hutchinson. I wish I was putting Caleb 5th (actually I wish he wasn't even on this list and had gone home weeks ago over any of the other guys), but here we are. America and their basic country music. At least you could get into some anti-establishment country/roots rock like Sturgill Simpson. Sigh. Anyway, I won't be shocked if Caleb passes up the other three and ends up in the top spot at the end of this season.
5. Michael Lee Woodard. I'd love to be wrong about Michael, but I think he's currently the least-likely to win American Idol. The history is just not on his side with this show.
Who do you think will win American Idol 2018?