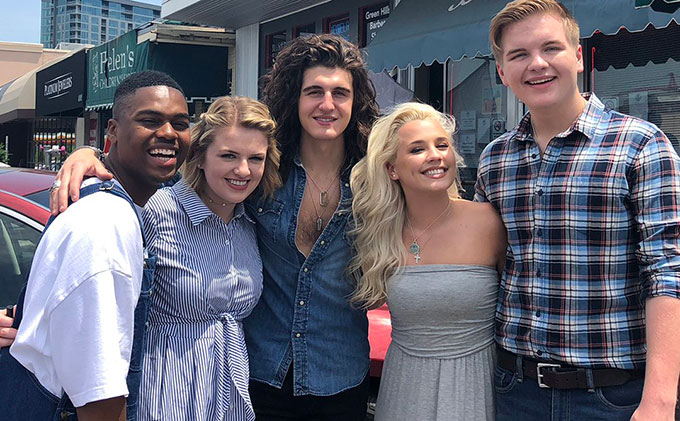 Tonight on American Idol 2018, the Top 5 will be singing two songs each. In honor of Mother's Day, they'll be singing songs dedicated to moms, and songs from Carrie Underwood's songbook.
The Top 5 finalists were surprised with a trip to Nashville and the opportunity to learn from Carrie while she served as their guest mentor for the week. In addition to mentoring the American Idol Top 5, Carrie Underwood will also perform her new hit single "Cry Pretty."
By the end of the night we will know the official American Idol 2018 Top 3, who will be performing for your votes next week during the penultimate episode of the season. Then on Monday, May 21, the winner of American Idol 2018 will be crowed.
The Top 5 finalists and their song choices for this week include:
Cade Foehner
"Simple Man" by Lynyrd Skynyrd
"Undo It" by Carrie Underwood
Caleb Lee Hutchinson
"Stars in Alabama" by Jamey Johnson
"So Small" by Carrie Underwood
Gabby Barrett
"I Have Nothing" by Whitney Houston
"Last Name" by Carrie Underwood
Maddie Poppe
"God Only Knows" by The Beach Boys
"I Told You So" by Carrie Underwood
Michael J. Woodard
"Still I Rise" by Yolanda Adams
"Flat on the Floor" by Carrie Underwood
Be sure to join us back here tonight for your American Idol results and a little later for the full Top 5 performances recap. American Idol airs on ABC from 8:00–10:01 p.m. EDT/5:00-7:01 p.m. PDT. Fans can vote for their favorites by text, via AmericanIdol.com/vote and on the American Idol app during Sunday's live broadcast. Results will be revealed at the end of the show in real time, across all time zones.
Who do you think is going to make it into the American Idol Final 3? Check out our editorial on who will win American Idol to find who we are predicting to go home this week.