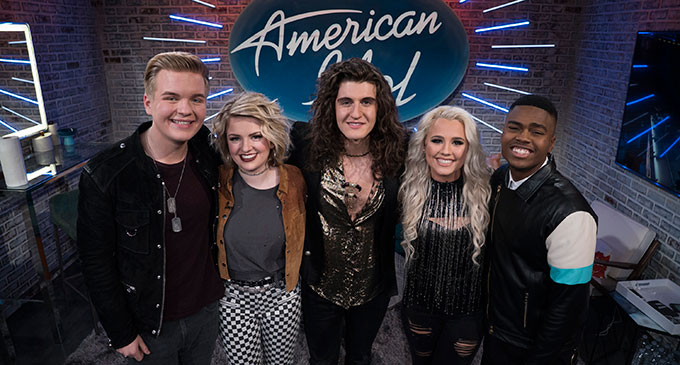 Sunday night on American Idol 2018, Jurnee and Catie Turner were the latest contestants sent home based on America's vote.
I called Jurnee's departure with last week's Power Rankings, but Catie's elimination took me by surprise. So, it's definitely hard to get a read on America's voting this year. So for these Power Rankings, I'm going strictly on performances last week.
Keep in mind, these are based on my own opinions and a little bit of what I think America might be thinking. But as I said above, that part is factoring in much less this round.
American Idol 2018 Top 5 Power Rankings
1. Maddie Poppe. I have no idea where Maddie's popularity lies. She's actually doing well on blog polls, so she might be more popular than I think. And that's a good thing because I think she's the best contestant left. She's a true artist and her performance of "Nothing Compares 2 U" Sunday was one of my favorites all season.
2. Michael J. Woodard. I think Michael is fantastic. He's unique. He's original. He's everything American Idol needs. I just hope America sees it that way again during the next round of voting.
3. Cade Foehner. Cade has his ups and downs, but no matter what, he's always true to himself. He is a rocker and that 1960s/1970s southern rock vibe he puts off is refreshing. It's almost like everything old is new again with him.
4. Gabby Barrett. I think Gabby is a great singer when she does pop songs. But when she tries to force herself into being a country artist, she gets nasally and it all seems so forced. I have a feeling America likes her way more than I do, however.
5. Caleb Lee Hutchinson. Caleb still being in the competition is baffling to me. As I've said before, he's not a bad singer. He's perfectly adequate. But he's also bringing nothing new to the American Idol stage. Others have done it already, and done it better. I just don't get what America is seeing in him, other than he's a country singer and American Idol fans love country music.
How would you rank the American Idol 2018 Top 5? We'd love to hear your thoughts.