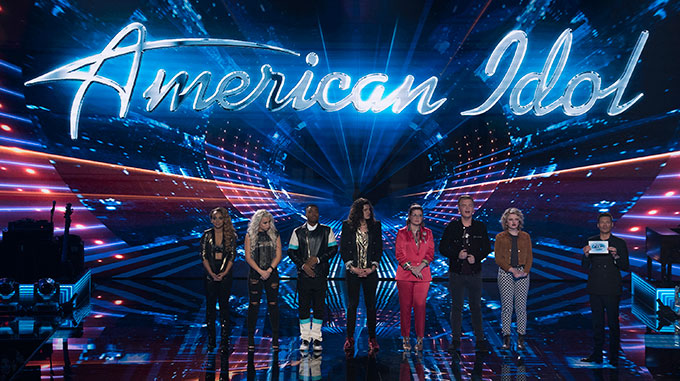 Last night on American Idol 2018, we said goodbye to Jurnee and Catie Turner after America's votes were revealed.
So did America get it right? Yes and no (which has been the theme all season with voting). So if it's 50/50 then which was right and which was wrong? Well, in my opinion, Jurnee should not have gone home. Catie, however, 100 percent should have gone home and even she knew it.
Of course I'm basing my decision on last night's performances, which isn't what America is voting on. They're voting on who is their arbitrary favorites. It's human nature. That's why America should never be the judges of a singing competition, but alas …
My point is, Catie flubbed the lyrics to her Prince song. And she handled it like someone in a high school talent show. She made faces, shrugged and made it even more obvious that she messed up. Then she was flat the whole song because she never recovered. So yes, she deserved to go home after that.
But America didn't punish her for that. To be honest, I'm surprised Catie went home. She has been very popular in internet searches, on social media and many blog polls. So I did not expect her to be sent home. She just got outnumbered by Caleb Lee Hutchinson's fans.
Why am I saying they are Caleb fans? Because I'm still flabbergasted that Caleb has made it this far. It's completely adequate when it comes to performing. But he offers no innovation. There's nothing original about him. And he holds up the bottom of most polls, and only recently have people even starting googling him, according to our search statistics. But somewhere out there, his fans are voting.
So for this week, I would have personally picked Catie and Caleb to go home. Jurnee is such a great singer, and this week she really just looked and felt like a star on that stage. Caleb still needs some work, as even he admitted to Nick Jonas. He knows he's awkward on stage. But America decided he should stick around another week.
I am very happy that America decided to keep Maddie and Michael, however. They are the two most talented people left. Maddie is a true artist and she proved that even more this week. And Michael is this unique creation. He's like nothing I've ever seen on a musical stage. I'm very happy for them. Which means they'll probably go home next week because I have terrible luck.
Jokes aside, I am starting to get the feeling that we will see Caleb, Cade Foehner and Gabby Barrett at the end. And based on American Idol history, Gabby would lose to either of the guys. American Idol voters love their dudes with guitars.
In fact, I'm already coming to terms with the fact that Maddie or Michael can't win American Idol. I hope I'm wrong, and polls would suggest I am wrong. But apparently the people who vote in polls and google contestants aren't the same people who pick up their phones and vote.
What do you think? Did the right two people go home? Who do you think is going to win this season of American Idol?