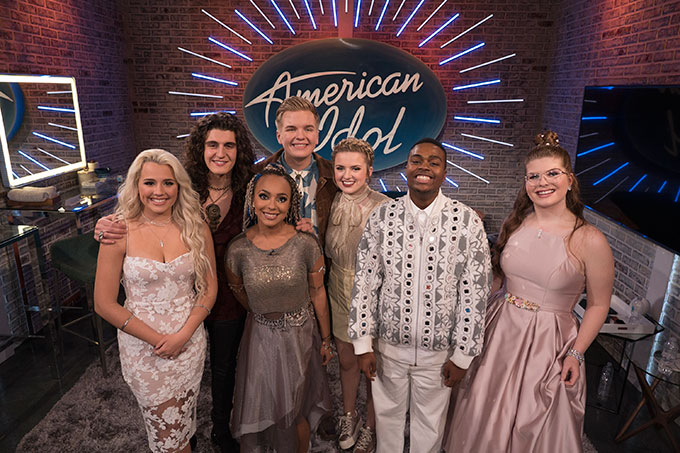 The American Idol 2018 Top 7 was revealed this week after America voted live and sent home Dennis Lorenzo, Ada Vox and Michelle Sussett.
And not to toot my own horn, but in last week's Power Rankings, those were my bottom three. So there you go.
For the next few weeks, we'll be assessing how the contestants perform and how the votes play out, and will be ranking them based on how we think they're doing and how we think America is responding. We'll be taking into account song choice, performance, stage presence and look, judges' comments and their placement during the results portion at the end of each episode. And for the record, these are not AT ALL ranked based on my opinion of them.
So let's get to it!
American Idol Top 7 Power Rankings
1. Michael Woodard. I'm not sure America is ranking Michael first, but they should be. Especially after his amazing performance of "Beauty and the Beast" on Sunday night. I'm sure America likes Gabby, Cade and Caleb better, but I'm putting Michael at the top of our Power Rankings because he deserves it.
2. Catie Turner. Catie hasn't been among my favorites this season, but her performance for Disney week was pretty great. I finally heard her sing. Like legitimately sing. There were no gimmicks and no quirks, and I really liked that. And since I think America is really digging her as well, she's holding onto the No. 2 spot this week.
3. Cade Foehner. I think Cade might be the frontrunner, but I'm still trying to figure out what America likes now. A few years ago they would ONLY be about the white guy with the guitar. The only way one of those didn't win in the last eight season was in Season 12 when the judges made sure there weren't any for America to vote for. So my thinking is that Cade might be the one this season. So I'm keeping him high. And plus his version of "Kiss the Girl" was pretty good.
4. Gabby Barrett. I think this past week was Gabby's worst performance. There was nothing natural or effortless about it and on top of that it was boring. It's still possible to slow things down and still have a moment. I mean look what Michael, Catie and Cade all did. While I'd like to rank Gabby last, I think America (and the producers) are still really into her.
5. Maddie Poppe. Maddie holds on to the No. 5 spot, even though I'd love to put her at No. 2. But as I said above, these aren't my personal favorites rankings. I think she did an amazing job last week and America saw that, but I'm not sure she's any higher than this in who they're voting for.
6. Caleb Lee Hutchinson. I find Caleb incredibly boring and think he brings nothing at all new to the American Idol table, but voters love their country music, so he's probably going be just fine next week.
7. Jurnee. I'm happy America put Jurnee into the Top 7. She's probably the best vocalist and all around most marketable of the seven left, but America doesn't always see the complete package when it comes to voting. She definitely did a great job this past week, but I doubt she makes it beyond this next Sunday night.
How would you rank the American Idol 2018 Top 7? Vote now in our poll below: