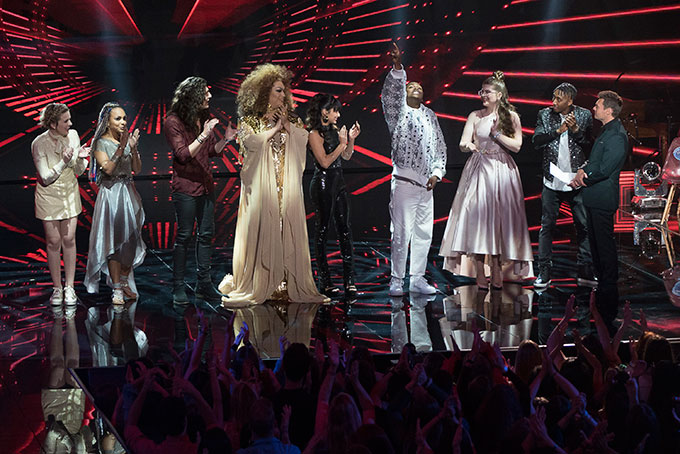 After last week's American Idol 2018 results sparked some debate, I think it's safe to say this week's results made a little more sense.
The American Idol Top 7 was formed immediately following the Top 10 performed songs from Disney, and I actually think I'm OK with these results. For the most part. Last week, I was not.
I know not everyone is going to be happy with the three people who went home. Someone's favorite always has to go, obviously. But I think if we're basing this on the performances, then these results made sense.
I think Ada Vox was a bit screechy in her performance of "Circle of Life" and Dennis Lorenzo's "Can You Feel the Love Tonight" was too subtle and forgettable (for example, I was trying to write this all from memory, but had to stop and look up what song he just performed two hours ago from when I was writing this).
As for Michelle, I actually thought this was one of her better performances. But cumulatively, her getting eliminated made sense to me. She never got much of an edit and she's not the most engaged performer. There was always a bit of a disconnect.
So yes, I think America got the results right for a change.
Are there people in the Top 7 I'd rather not be there? Absolutely. I'd love to be able to swap out at least three of them for singers have already left the competition, some even before the Top 24. But it is what it is. It's a solid Top 7. I'd love for there to be a better representation of diversity, but Michael Woodard and Jurnee are two of the best singers left, and I'm hoping America sees that.
I do wonder how much the voting method effected the outcome. America had little time to decide based on performances, but let's face it, at this point in the game people vote for their favorites regardless of the performances. But if you were to perform at the very end like Dennis, you had very little time to catch the eye of any new fans who might have decided to vote for you this time around.
So those last couple of spots could be considered a bit unfair. Which is different from every season in the past, because that used to be the pimp spot. Now the earlier they perform, the better. That's why Michael's great performance of "Beauty and the Beast" was in the middle, as was obvious producers' favorite Gabby Barrett.
What did you think of the American Idol 2018 Top 7 results? Did America get it right this time?