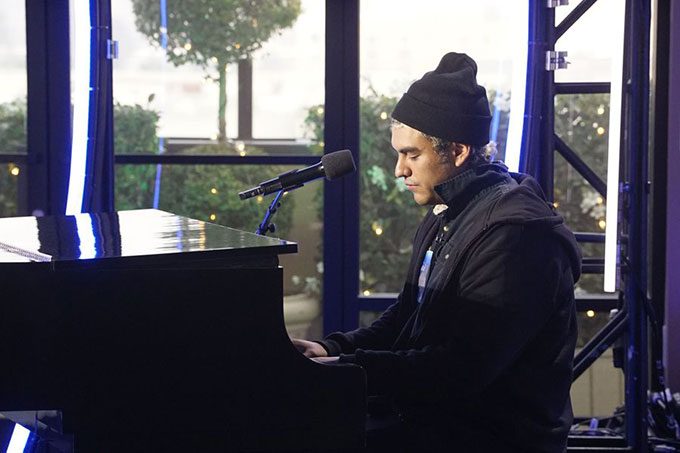 I have seen A LOT of American Idol auditions. And I've reviewed a lot of American Idol auditions. And I don't think I've ever seen on better than Alejandro Aranda. It was better than Adam Lambert's audition. It was better than Carrie Underwood's audition. It was just so good.
And even though there were plenty of other American Idol 2019 hopefuls to sing Wednesday night, my mind is only on Alejandro.
Courtney Penry, "Parachute" and "Girl Crush." She wasn't terrible for an audition without any accompaniment, but she is definitely a little extra. I think she might be a little better with some music, but it was kind of just a basic audition. She gets three yeses!
Logan Johnson, "Sober." I wasn't a fan of his lack of enunciation, but he has a nice vibe about him. You can tell he's suffered a bit, which is sad for someone so young. But I wish he wasn't trying to sing with such a gimmicky style. The judges loved his audition and gave him an easy ticket to Hollywood.
Eddie Island, "Stay OK." Eccentric Eddie breaks out the original song. And he, too, has his own little gimmick, but it seems a little more natural than Logan's. Eddie's sound is actually unique and I could see him doing well on this season. The judges give him a pass to Hollywood Week.
Kason Lester, "Holding Her." The strawberry farmer is 28, so I'm pretty sure this is probably his last shot at Idol. His audition wasn't perfect, but it wasn't bad. He definitely has a good presence and the right look, but the vocals aren't just right. The judges decide to take a shot on Kason and get gets a golden ticket.
Karli Ryan, "Give Me Back My Heart." I thought this was a great audition. Her voice was sweet and smooth and I thought the song was really good. Lionel and Katy weren't feeling her as much as Luke (and myself though). She did not make it to Hollywood.
Juan Pablo. I don't know what the song was, but the audition was incredible. He seems to be a bit of a tool, but he is extremely talented and has a lot of star power. The judges obviously give him a ticket to Hollywood Week.
Shayy, "Rise Up." Well that was emotional. From her story to her effortless vocals to Lionel Richie's emotions, that was something else. She is a really special person and singer and I'm happy the judges gave her a ticket to Hollywood.
Landen Knowlton, "Wash by The Water." I liked his sound and his soul, but I'm not sure he has anything extra remarkable to really make sense on American Idol. But the judges give him a pass to the next round.
Ethan Payne, "Do I." This kid has so much talent and so much confidence. He's still very, very young, but I enjoyed the audition. He got three yeses to Hollywood.
Alejandro Aranda, "Out Loud." Well this was an audition. I felt like I was listening to the radio. It was probably one of the most flawless auditions I've ever seen on American Idol. The judges really liked it too, so he got an easy pass to Hollywood Week.
What did you think of the American Idol 2019 auditions? Who were your favorites?