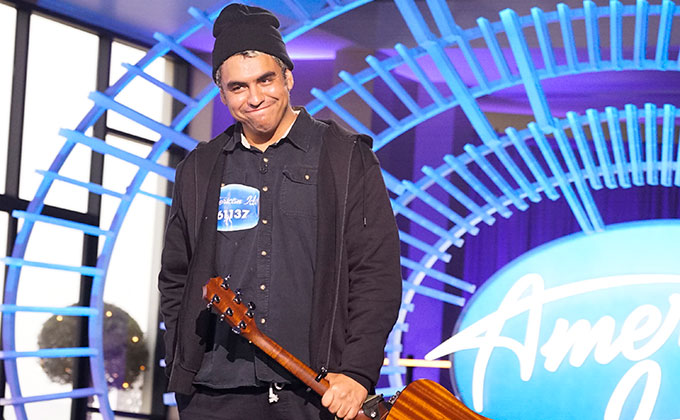 American Idol 2019 is back tonight with a new round of auditions. The show starts at 8 pm and is again two hours. And thanks to ABC, we have a sneak peek at who will be singing for the judging panel on tonight's episode.
Meet the American Idol 2019 Contestants: Episode 2
Courtney Penry 
Age: 25
Hometown: Houston, TX
Occupation: Bride-to-Be
Random Fact: Formerly know as "Crazy Chicken Girl in love with Ryan Seacrest" from 2011 auditions
Instagram: @courtneypenrymusic

Logan Johnson
Age: 20
Hometown: Boise, ID
Occupation: Golf Shop Attendant
Random Fact: Has wanted to be on American Idol since age five
Instagram: @logankjohnson

Eddie Island
Age: 25
Hometown: Nashville, TN
Occupation: Rideshare Driver/Unofficial Nashville Mayor
Random Fact: Moved to Nashville for a Paramore concert and never left
Instagram: @nashvillemayor

Kason Lester
Age: 28
Hometown: Lebanon, TN
Occupation: Strawberry Farmer
Random Fact: Has planted 30,000 strawberries by hand
Instagram: @kasonlester

Karli Ryan
Age: 17
Hometown: Milton, FL
Occupation: High School Student
Random Fact: Her mom auditioned for Idol 15 years ago
Instagram: @karliryanmusic

Juan Pablo
Age: 26
Hometown: North Hollywood, CA
Occupation: Ride Share Driver
Random Fact: Addicted to mango-chile flavored Nerds
Instagram: @juanpablomusic1

Shayy Winn
Age: 17
Hometown: Midlothian, VA
Occupation: High School Student
Random Fact: Was obsessed with dinosaurs as a kid
Instagram: @shaylashayywinn

Landen Knowlton
Age: 23
Hometown: Tupelo, MS
Occupation: Army Sergeant
Random Fact: Starred in a short film when he was eight that won several awards
Instagram: @LandenKnowlton

Ethan Payne
Age: 15
Hometown: Macon, GA
Occupation: High School Student
Random Fact: Luke Bryan gave him a guitar at one of his concerts
Instagram: @ethanpaynemusic

Kimberly Gatski & Bernie Gonzalez
Age: 27, 26
Hometown: Fort Lauderdale, FL
Occupation: Student
Random Fact: Had a Cinderella-themed wedding
Instagram: @Kimberly_janet_g & @Bernie_g3

Alejandro Aranda
Age: 24
Hometown: Pomona, CA
Occupation: Dishwasher
Random Fact: Has only been playing music for four years
Instagram: @scarypoolparty
Be sure to join us back here following tonight's episode of American Idol 2019 for our latest recap. Also if you can't wait to find out who makes it beyond Hollywood Week, check out our American Idol 2019 Top 14 Spoilers!