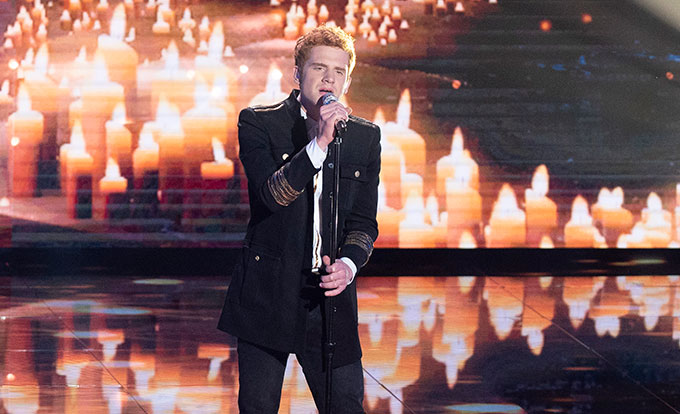 The American Idol 2019 Top 10 took on songs from the Disney songbook Sunday night as they hoped to take one of the spots in the Top 8 at the end of the night. 
As the live voting got under way, so did the performances. And it wasn't the most exiting of nights. A lot of the song choices were odd ones, and then the whole results thing at the end of the night loomed over the whole show. Let's take a look at how the Top 10 did on Disney night. Below are all the performances reviewed and graded by us. 
Uche, "Eye To Eye" From The Goofy Movie. Like Rebel Wilson said, the song is a bit obscure, which is really silly of him since he almost went home last week. But he brought the same energy he always does. The song was very cheesy, but he sounded great on it. Grade: B+
Laci Kaye Booth, "I See The Light" from Tangled. Well first of all she looked beautiful. But again, I wish the song was a little better known. Regardless of the song choice, she handled it beautifully. She has a great unique sound and I really hope to hear more with or without American Idol. Grade: A-
Alejandro Aranda, "Remember Me" from Coco. I am just really confused about Alejandro. He started off so strong and could do no wrong for me. But this is the third week in a row where I was just underwhelmed. I don't know what's happening. The vocals just aren't the same as they were are they? This was so breathy and and flat. I don't know, I'm just really confused. Grade: B
Alyssa Raghu, "Colors of the Wind" from Pocohantas. So far this is the smartest song choice. It's at least as song more people will know. But the arrangement was nothing special or unique and neuter was her performance. It was just kind of there and then there were a couple of flat moments. I still can't believe she was Katy's save last week. Grade: B-
Wade Cota, "You've Got a Friend In Me" from Toy Story. Another smart song choice. But as always I can't listen to hm sing. So I'll base this grade on what the judges think because I hate it and I can't be fair. Grade: B+
Dimitrius Graham, "You'll Be In My Heart" from Tarzan. This too was a smart song choice. Dimitrius needed s familiar song. But was it the right one for him? Well. I don't know. It wasn't my favorite performance of his. The vocals were just off and the whole thing was a bit boring. He did have a strong moment in the middle, but I think I understand why America is voting for him more. Grade: B-
Walker Burroughs, "When Somebody Loved Me" from Toy Story 2. Another not great song choice. I think if he was going to get the votes to stay, he could have sang anything though. And that is a good thing for him because this was very boring. There were no powerful moments or anything for him to show his abilities. Grade: B-
Madison VanDenberg, "How Far I'll Go" from Moana. This was a pretty safe choice, but the vocals were great. There's not a whole lot more to say about it. She's a great singer and this definitely showed us that, even if it was a safe song choice for her. Grade: A
Laine Hardy, "Oo-De-Lalley" from Robin Hood. This was a really interesting song choice. I thought it was going to be weird, but it really worked for him. Laine is a natural and he's clearly going to go all the way to the end of this season. Grade: A
Jeremiah Lloyd Harmon, "Candle on the Water" from Pete's Dragon. I had never heard of this song and I thought it was a bad idea, but he owned it. He took a song I've never heard and made it into a Jeremiah song. And those notes he hit. He is by far the best vocalist in this completion. Grade: A+
The Results
The realtime results came in right away, which seemed a bit worrisome for those who sang near the end of the night. But that didn't seem to effect the results, as you'll see.
The American Idol 2019 Top 10
Laine Hardy
Madison VanDenberg
Walker Burroughs
Laci Kaye Booth
Alejandro Aranda
Jeremiah Lloyd Harmon
Wade Cota
Alyssa Raghu
Going home:
The judges get one save and they have three weeks to use it. It looks like Lionel wanted to save Uche but he couldn't get Katy to agree on the save and it has to be unanimous.
Do you think America made the right choices? Are you happy with the American Idol Top 8?