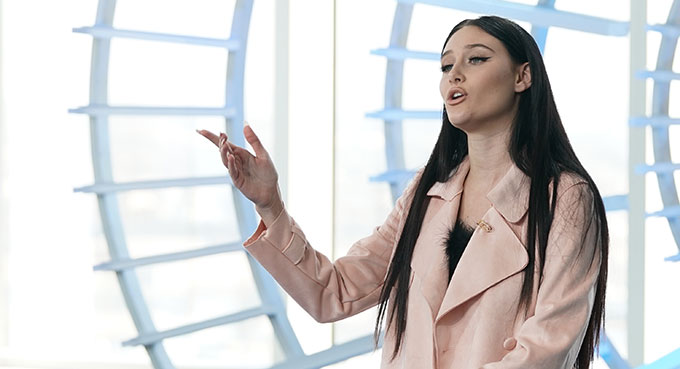 There were a whole new batch of American Idol 2020 hopefuls that wowed the judges on Sunday night. There are some definite stars in this group, and I think a few of them could possibly go all the way to Top 10 or further.
Let's take a look at some of the best auditions from Sunday night.
Danny La Rota, "Royals." He does not have much presence at all and he sings with his eyes closed the whole time, so that will never work. But he has a great voice and singing style. Katy says he's one of the most original singers to show up this season. I'm not sure about that, but he's pretty good. The judges really like him, so he's off to Hollywood.
Makayla Phillips, "Who's Loving You." She's got a lot of voice and soul for a 17 year old. I'm not a fan of her stage presence, but she can really sing. She just needs to come off less stand-offish, I think. The judges loved her, so she gets an easy pass to Hollywood. > SEE MAKAYLA'S AUDITION HERE
Devon Alexander, "I Hate To Say I Love You." This was a pretty solid audition because he has a pretty unique voice. It wasn't perfect as far as pitch goes, and he's very nervous, but he is very relatable. He has the presence the other two didn't. I like him and so do the judges. He's off to Hollywood!
Mosean Wilson, "Slip Away." I felt like I was listening to an old Blues album when this guy started. The song wasn't the best-written song or anything, but he's got some magic there. It was all just so effortless. I do wish the song was better. The judges are into Mosean also, so they send him off to Hollywood.
Alejandro Garrido and Kat Luna, "Shallow." American Idol isn't into duos or acts, but this couple audition together. And he's a better performer than her. But they do have a lot of charisma together. I personally would put him through but probably not her. They like them both, so they both get sent off to Hollywood.
Sophia Wackerman, "Water." I'm not totally sure how I feel about her. I mean she's clearly very talented, but I don't know if I enjoyed that audition. I think she will be better on other songs, though, so I'm glad she gets her pass to Hollywood.
Olivia Ximines, "Language." Wow. 16? And that kind of voice, presence and confidence? Some people are really just born for this. And Olivia is one of them. She is absolutely incredible. And if she's not Top 10 this season I will be shocked. The judges are really into her as well, so she gets an easy ticket to Hollywood Week. > SEE OLIVIA'S AUDITION HERE
Zack Dobbins, "Misuse." I didn't expect this guy to be so good, but I guess since they went all the way to his home in West Virginia, I shouldn't be surprised. He's a pretty simple Appalachian guy, but he definitely has some born-in talent. The judges loved his authenticity and sent him off to Hollywood. > SEE ZACK'S AUDITION HERE
Ren Patrick, "Dancing On My Own." Well, I love the song. It's one of my favorites. So I definitely loved the song choice and her version of it. Rea has a lot of soul and emotion in her voice. You can tell she suffered for a long time. Living a hard life sucks, but it makes some of best artists. The judges send her off to Hollywood.