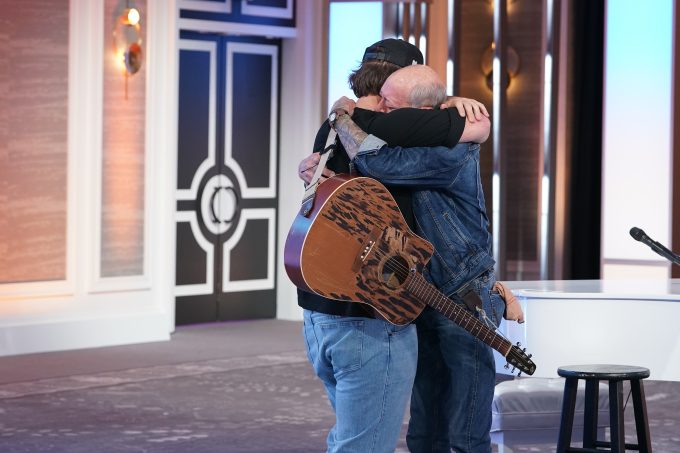 American Idol 2023 is back in full swing with tonight's all-new episode. In last week's episode, we were blown away by some performances, including Iam Tongi's beautiful "Monsters" tribute to his late father and Haven Madison's amazing original song "Fifteen." There have been so many great Idol auditions so far that we can't wait to see what's next. The new crop of Idols are kicking the show off with some stellar performances.  Now, American Idol is giving us two more hours of great auditions. As usual, American Idol has been releasing previews of this episode. 
We've seen pictures of the new contestants and a few previews of their songs. We've already seen Jon Wayne Hatfield's beautiful original song to his granddad and Matt Wilson's cover of "For Tonight" by Giveon. It's going to be another great American Idol 21 episode. Grab your dinner or a snack and prepare for night two of the American Idol 2023 auditions.
The Auditions
This week's American Idol auditions include a few familiar faces, a former judge and a former contestant. They'll bring some excitement to the Idol audition room. We also witness more amazing covers and a few great original songs. It's off to Nashville first.
Caroline Kole is up first. She talks about the long road to get to Idol. She sings "Firework" by Katy Perry, who sings along with her. The judges tell her to show her personality more and that she could make it top 20-something, but she then has to work hard to make it further. She gets all yeses.
Jon Wayne Hatfield shares his story of growing up living with his grandparents. They were his parents. He shares that when his grandmother died, his grandfather went into a deep depression. He finally began speaking to him again and came out as gay. He wrote a song for his grandfather called "Tell Me Ray," which sing as his audition song. He gets to directly sing it to his grandfather. The judges all give him a yes. They believed in him from the first note.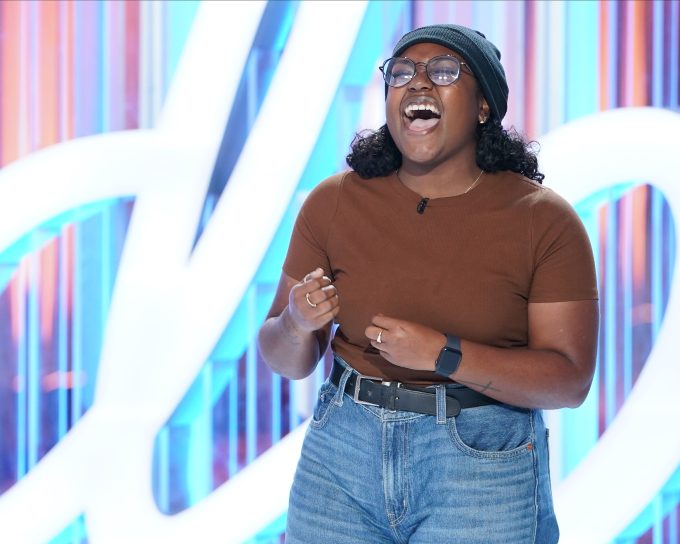 Ashley Tankard has tried out 15 times for American Idol and finally got a yes to sing in front of the judges. She sings "You Broke Me First" by Tate Mcrae. Katy gives her some advice on pronouncing her words clearly. The judges let her sing again. They tell her that she loses some control when she continues to sing. However, Katy says she believes she's a fighter and there is no challenge she can't overcome. She gives her a yes. Luke gives her a no. Lionel shares that he used to have stage fright, like her, but he believes that she can overcome it. Lionel gives her a yes. She's going to Hollywood.
Cody Winkler comes up next to give it his all. He talks about being shy and just getting started. He sings acapella. He sings "Under a Neon Halo" by Bill Green. He then sings with Luke and his guitar. He sings "Unwound" by George Strait. Lionel says he likes Cody enough to say yes, but Katy says he needs fertilizing and says no. It comes down to Luke, who ultimately says no. He doesn't get a Hollywood ticket.
Matt Wilson shows how much he loves his job as a daycare teacher's assistant. He also talks about his love for his wife and how she encouraged him to dream again. He sings "For Tonight" by Giveon. He gets applause from the judges. Lionel says he loves his presentation. Luke tells him that he gave one of the most genuine performances that he ever heard. They allow Matt to bring his wife into the audition room. He gets yeses from all of the judges.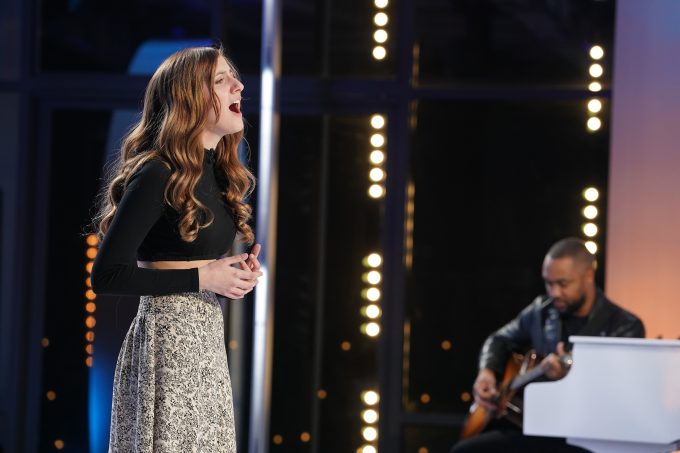 Kaylin Hedges talks about her father making sacrifices for her dreams. He decided to deploy to allow her to be able to get more opportunities in places such as New York. She talks about not being able to really see him that often because of being overseas because of his job. Kaylin sings "I'm Already There" by Lonestar. The judges compliment her big voice. She also gets a video from her dad telling her how proud he is of her. He then surprises her by showing up to her audition in person. They then surprise her mother with her father being there. They also give Kaylin the next platinum ticket. 
Aiden Adair walks in while the judges are singing "You've Got a Friend" by James Taylor. He sings "Break My Heart Again" by FINNEAS. The judges give him some advice and then have him sing "Let It Go" by James Bay. They try to ease him out of his shyness and nerves. Katy says he went from a 4 to an 8. They all give him yeses.
Flashback 16 years with Phil Stacey auditioning for American Idol Season 6. His daughter McKayla Stacey, who was born the day he auditioned, is auditioning. He then gets a video from Paula Abdul. She sings "She Used To Be Mine" by Sara Bareilles. Lionel advises her to work on her storytelling abilities with her singing. Luke and Katy say they're kind of torn on if to send her to Hollywood. Luke is a no but Lionel wants to roll the dice, so gives her a yes. Katy lets her go to the next round with a yes.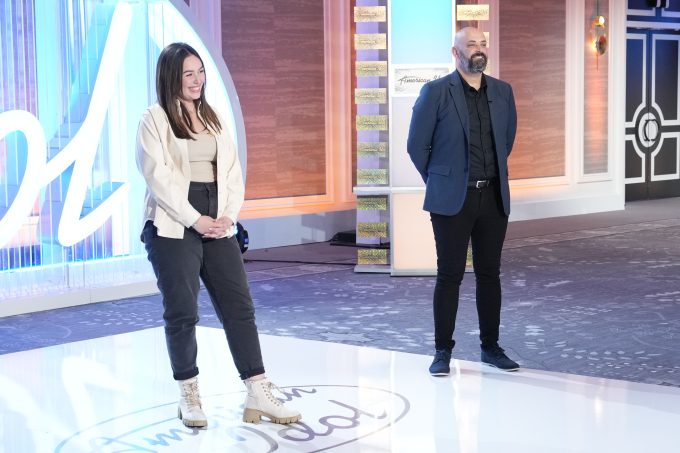 Nutsa from Georgia, the country, talks about always dreaming about being on American Idol. She now lives in Dubai. She sings "Lady Marmalade" by Patti LaBelle. Katy says her voice was turned up too high and has her sing another. She sings "Greatest Love of All" by Whitney Houston. Basically, they tell her to not be so theatrical. She gets all yeses.
Trey Louis sings "Stone" by Whiskey Myers. Lionel says "Oh, I love you," the minute he starts. He gets a standing ovation. Then they ask him why he's auditioning for Idol. He talks about a gunman coming to his school and shooting eight students. He survived the Santa Fe high school mass shooting. Katy gets emotional and says things need to change. He gets yeses from everyone.
Segments
Let's look at the usual American Idol silliness that the judges and Ryan Seacrest get up to this week. We get a segment on how people can now audition through videos, which transitions to Ashley Tankar's audition.
We get a segment on the underdog and people who are raw with very little experience before auditioning. This is another transition to Cody Winkler. 
We get a segment on Lionel learning to change a diaper because one of the contestants makes diapers. Next, there is a segment on international auditions.
Katy loses some of her extensions from rocking out too hard. Luke takes them and pretends to have a mullet. He sings "Achy Breaky Heart" by Billy Ray Cyrus. Then we get a mullet segment.
Other Thoughts
Here are my other thoughts about this week's contestants and auditions.
There are a lot of segments on this one.
I feel like some of the international auditions should have gotten more focus, because some of them sound great. I hope we get to see more of them during the Hollywood rounds.
I think the first-night auditions were overall better than this episode, but there were a few good ones in this batch.
Did you enjoy tonight's American Idol 2023 audition episode? Let us know in the comment section. Make sure to join us next week for more American Idol recaps. Follow us on Twitter and Facebook for all things American Idol 2023.