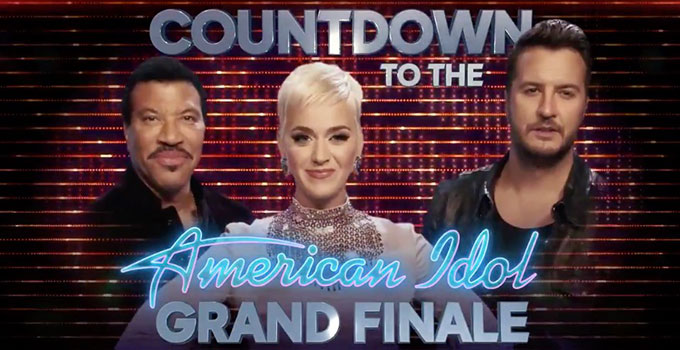 The American Idol 2019 Season Finale is on Sunday and either Laine Hardy, Alejandro Aranda or Madison VanDenberg will become the new champion.
But before we get to the crowning moment, there will be a number of guest performances. We will also get a visit from reigning winner Maddie Poppe, but much to her disappointment, she will not be performing. Below is the full line up, but ABC tells us the list is not limited to this (which means they probably asked a few more people to show up who haven't confirmed yet).
American Idol 2019 Season Finale Lineup and Songs
Adam Lambert to perform his new single, "New Eyes," and "Bohemian Rhapsody" with Dimitrius Graham
Carrie Underwood to make a special appearance during her Cry Pretty Tour 360 to perform her new hit single, "Southbound," live on the "Idol" stage
Daddy Yankee and Katy Perry to perform "Con Calma"
Dan + Shay to perform "All To Myself" and "Speechless" with Madison VanDenburg
Jon Pardi to perform a medley of "Night Shift" and "Dirt On My Boots" with Laine Hardy
Kane Brown to perform "Good As You" and "Lost in the Middle of Nowhere" with Alyssa Raghu
Katy Perry to perform "Unconditionally" with Jeremiah Lloyd Harmon
Kool & The Gang to perform a medley of "Hollywood Swinging," "Ladies Night" and "Celebrate" with the Top 10
Luke Bryan to perform "Knockin' Boots" and "Every Breath You Take" with Laci Kaye Booth
Lionel Richie to perform "Dancing on the Ceiling" with the Top 10
Montell Jordan to perform "This Is How We Do It" with Margie Mays and Austin Michael
Viral sensation Shayy returns to perform "Rise Up"
Weezer to perform a medley of "Africa," "Take On Me" and "Everybody Wants to Rule the World" with Wade Cota and Walker Burroughs
Be sure to join us back here on Sunday night for our live coverage of the season finale. Also, if you haven't yet, take our poll and let us know who should win American Idol 2019!