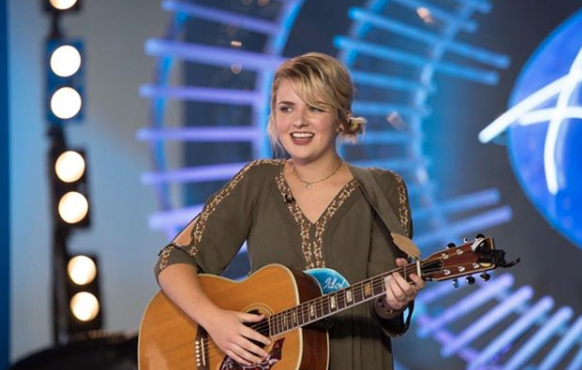 Maddie Poppe is the latest American Idol 2018 spoiler revealed to have made it beyond the Top 24 of Season 16 and into the coveted Top 14 singers. We'll be seeing Maddie as part of the live episodes in late April according to the American Idol schedule this year.
Maddie Poppe sings "Rainbow Connection" on American Idol 2018:
This 20-year-old Iowan has taken herself from the American Idol auditions all the way down to the finalist stage and live show portion of Season 16. That's a huge accomplishment as her fans will have plenty of opportunities. Maddie explained to the Des Moines Register how she viewed this experience on American Idol:
"I am not a pop singer," she said. "I don't dress like anyone else and I am kind of quirky, so I thought I would just really be myself and bring that to the competition."

"There's no rule book to being a musician," she said. "You know, if you want to be a teacher, you go to school to be a teacher. But to be a musician, there is not a clear path. A musician makes it all kinds of ways, so, for me, I am going to just take any opportunity that comes my way.
Maddie posted this repeat rendition of the same Golden Ticket winning performance on her Facebook page for fans to enjoy:
But there's more talent to be shared beyond her own as Maddie made room on Twitter for fellow Golden Ticket winner, Marcio Donaldson.
Here you go internet, the moment I've been wanting to share for so long now. The one, the only, @MarcioDonaldson #trickortreat ? #americanidol #worldslongestnationalanthem@EffiePassero @calebleemusic pic.twitter.com/31hzRNvMsq

— Maddie Poppe (@MaddiePoppe) March 20, 2018
Do you think Maddie could be the winner of American Idol 2018? We'll see more of her in the Top 24 and even on to the Top 14 if spoilers are right about this talented singer.