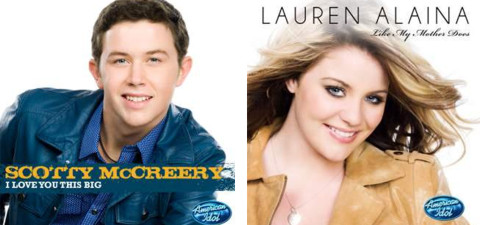 You won't have to wait to buy the American Idol 2011 winner album or even Lauren's (zing!) because Idol has just released compilation albums for both of the season's Top 2 featuring their songs from last night and throughout the season. Both albums contain 14 songs and can be picked up for $9.99 each. Not too shabby of a deal. Of course you can also just buy the individual tracks if you'd rather.
Direct links to buy Scotty's and Lauren's performance compilations:
The Lauren Alaina American Idol Season 10 compilation includes new single "Like My Mother Does," along with her standout performances of "Any Man of Mine," "Candle in the Wind," and "The Climb." The Scotty McCreery American Idol Season 10 compilation boasts his version of Lonestar's "Amazed," "Gone" by Matchbox 20, and Elvis Presley.
Full Disclosure: Yes, buying these albums through our links supports the site.