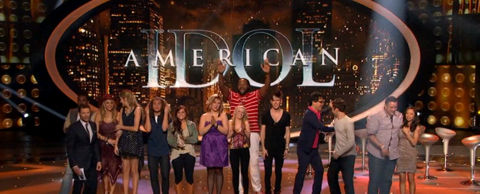 American Idol reveals the Season 11 Top 13 results tonight and we're ready to discuss our weekly predictions. Last week you all did an excellent job via our weekly performance poll in predicting who was safe and who was in danger of elimination so let's go to our poll and see what you all are expecting.
So far this week on American Idol 2012 the clear winner is Jessica Sanchez with a staggering 59% of the vote at the time of publishing. That leaves just 41% of the vote to be divided among the other twelve singers and no one comes close to a lion's share of what remains. Behind Jessica you've got Hollie Cavanagh and Skylar Laine for the ladies in second and third place, respectively.
That leaves Shannon Magrane, Elise Testone, and Erika Van Pelt standing in the girls' Bottom 3. I'd have to agree with that assessment considering their performances last night. Looking to last week's results we saw Shannon and Elise earn America's support to move on to the finalists seats, but Erika Van Pelt did not. She's already shown that she can be voted out and I'd guess America was ready to do it again last night. Look for Van Pelt in the danger zone.
Across the aisle in the guys' group we've got a repeat of last week with Phillip Phillips leading the pack with 9%. Heejun Han isn't far behind with his rendition of "All in Love is Fair" and gets second place among the guys. Colton pulled through enough to earn third place in your votes here on the site. I'd have a hard time disagreeing with that Top 3 for the guys, so I won't.
Since the guys came in with an extra singer to the American Idol Top 13 we'll just group that additional guy in to the danger zone. DeAndre, Joshua, Jermaine, and Jeremy own those seats tonight if your votes are any reflection. Just like my argument against Erika above, I think his previous elimination last week makes Jeremy a vulnerable candidate to be sent home.
At that point the elimination is out of our hands. The judges take control and will decide which singer will see the end of his or her journey through American Idol. If those bottom two singers are Jeremy and Erika then normally I'd say it'd be a close call, but Idol production is scrambling for a female winner. I completely agree with Branden's predictions for tonight. Erika will survive her second elimination by America, be saved by the judges, and keep the girls at six singers. Meanwhile, Jeremy will head back home.
What do you think will happen tonight on American Idol 2012? Share your thoughts below and then be sure to vote in our poll as well. If you join us on Facebook and Twitter you'll get all the results sent to you as they happen. But don't worry, spoilers will be hidden behind the link if you don't want it to be ruined.