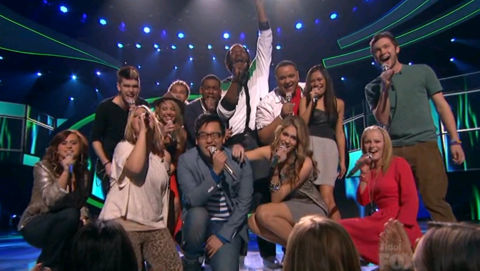 American Idol results are about to be revealed for the 2012 Top 13 singers. Ryan Seacrest will reveal which guy and which girl fell to the bottom of the vote pile last night and those two singers will probably face off one last time. The judges will then decide who will go home. We're expecting it to be a guy, one in specific, but you never know. Let's see what happens!
While we wait for American Idol results, join us on Facebook and Twitter.
American Idol 2012 Top 13 – Bottom 3 Girls:
Elise Testone
Erika Van Pelt Seacrest reveals she's safe
Shannon Magrane Also safe this week
No surprises here. Just as we predicted.
American Idol 2012 Top 13 – Bottom 3 Guys:
Jermaine Jones Also safe this week
Jeremy Rosado
Joshua Ledet Seacrest reveals he's safe
Ryan reveals Joshua and Erika are safe. One of the remaining Bottom 4 singers will be eliminated tonight. Jimmy Iovine agreed with our prediction that it'd be Jeremy. Let's see if we're both right.
In what must be a first in Idol history, Ryan asked one of the judges who should go home tonight and he actually got an answer! Steven Tyler answered "Jeremy" when asked who should go home tonight. Wow. Honesty from a judge.
Either Jeremy or Elise will go home tonight. Ryan asked Randy if America got it right and you can hear JLo softly say, "I don't think so." Sounds like she might be pulling to save the guy everyone says should go home tonight.
American Idol 2012 Top 13 – Elimination Result:
Well no surprise here. Jeremy was voted out of American Idol two weeks in a row.
American Idol 2012 Top 12:
Jessica Sanchez
Hollie Cavanagh
Colton Dixon
Heejun Han
Skylar Laine
Phillp Phillips
DeAndre Brackensick
Jermaine Jones
Shannon Magrane
Elise Testone
Joshua Ledet
Erika Van Pelt
What do you think of tonight's results on American Idol 2012?